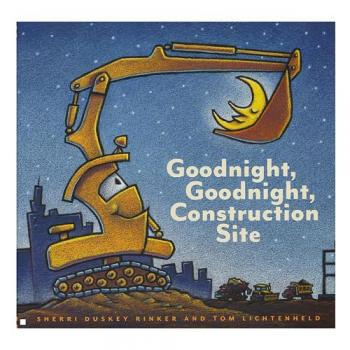 I just wrote a book review for Little Beaver and the Echo; this is another book that I absolutely love the pairing of text (by Sherri Duskey Rinker) and illustrations (by Tom Lichtenheld). As a matter of fact, in Goodnight Goodnight Construction Site, I would say that I like the illustrations more than the text. Don't get me wrong, I do like the text - although there are some rhythmic stumbles in the poetry that caught me off-guard the first couple times I read it. But when I'm reading this book to my kids, I'm barely paying attention to the words I'm reading, because I'm looking at all those delightful illustrations.
The use of color is great, and in particular, the illustrator used different tinted papers for the various "times of day" illustrations, which resulted in all the daytime pictures, all the sunset pictures, and all the nighttime pictures each having the appropriate color warmth to them, because each shared a base color.
The story (which isn't really a story; there's no real plot to the book) focuses on the activities of five construction vehicles: a crane truck, a cement mixer, a dump truck, a bulldozer, and an excavator. Each machine (you can see the excavator in the picture here) has its own unique personality and facial features. Each vehicle has a section of the book, ending with the vehicle snuggling up for a good night's sleep after a long day's work. After each section, the book ends with a couple pages of wishing the team a good night.
If you have young children who are fascinated with construction vehicles, you should not be without this book!

Do you have a question you would like to ask Professor Puzzler? Click here to
ask your question
!
Get a FREE Pro-Membership!
Educators can get a free membership simply by sharing an original lesson plan on our Articles for Educators page!



Like us on Facebook to get updates about
new resources