Crayola Experience
Lesson Plans
>
Field Trips
>
United States
>
Connecticut
Crayola Experience

The Crayola Experience is a place where children (and adults) can explore the process by which crayons are made, as well as the history of Crayola crayons. Crayola Experience has several locations in the US; this article reports on activities available at the Easton, Pennsylvania location; if you are visiting another location, be sure to check the website to find out what activities are available there.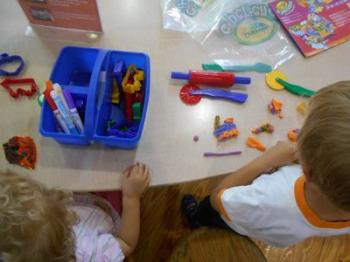 There are many opportunities to engage in different forms of art creation:
Color a picture and then a computer scans your picture and turns it into an animated figure that you can control with finger movements on a touch pad
Create models using Crayola's play-doh type clay, and color your models with markers
Draw pictures with a melted crayon substance. Dip a drawing stick into the reservoir of colored wax, and then draw.
Splatter paint! Slide crayons into the slot, where it is heated until it melts and drips onto a spinning paper below. You control the speed at which the paper spins, in order to create interesting designs.
Color a picture and slide it into a machine that you hand-crank to turn it into a jigsaw puzzle. (Make sure your kids understand what's going to happen BEFORE they start drawing - our two-year-old didn't understand that her picture was going to get cut into pieces, and was temporarily distraught when it happened!)
Color a picture and watch it dance (a staff member will attach magnets to your creature's feet and a strong magnetic field causes it to move in time to the music. If you have a pacemaker, there are warning signs instructing you to stay away from this activity!) 
In addition to these artistic endeavors, you can do the following:
Create a souvenir by melting a crayon into a mold
Play on the enormous indoor playground
Float a "crayon boat" down a river
See the world's largest crayon
Visit the Crayola Cafe
Visit the gift shop
As of 2017, tickets were about $20 apiece, but you could get a $2 discount by purchasing online. Children under 3 were free. Groups of 15 or more may receive discounts. There are other "Crayola Experience" locations in other parts of the country; check their website to find out if there is one near you.
Lesson by Mr. Twitchell

Understanding Coronavirus Spread
A Question and Answer session with Professor Puzzler about the math behind infection spread.
Blogs on This Site

Reviews and book lists - books we love!

The site administrator fields questions from visitors.

Like us on Facebook to get updates about
new resources