Problems
>
Loony Physics
>
2015
Loony Physics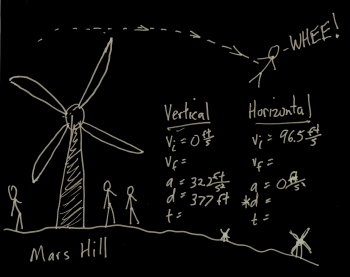 One of the most entertaining parts of being a Physics teacher is inventing (or getting students to invent) silly, impossible (and often absurdly dangerous) scenarios to use in developing Physics discussion and problem solving.  
Whether we're tilting at windmills, snowboarding down the slopes of the tallest volcano in the solar system, or discovering what happens when Elmer Fudd uses a rocket launcher to vent his rage and frustration toward Bugs Bunny, there's always something interesting going on in class.
This page does not have a regular update schedule, but I hope you'll stop back from time to time to see what's new in Loony Physics.
Blogs on This Site

Reviews and book lists - books we love!

The site administrator fields questions from visitors.

Like us on Facebook to get updates about
new resources