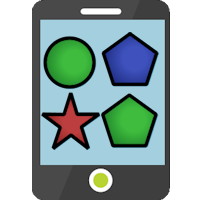 Mobile Games
On the old version of The Problem Site, there were several games which were not playable on mobile devices.  Specifically, many of the games were built in Flash, and other games were designed to take up too much screen real-estate, so they wouldn't fit on smaller devices.
On the new version of the site, all Flash games are gone, and all the games automatically resize themselves to fit on whatever size device you are using.  Thus, the listing of "Mobile Games" is identical to the full game list,and we encourage you to visit that page to discover many math games, language games, strategy games, and much more random silliness!
Also, don't forget to check out Portland Proof's fun word games, built by the administrator of The Problem Site.
Blogs on This Site

Reviews and book lists - books we love!

The site administrator fields questions from visitors.

Like us on Facebook to get updates about
new resources