The Farmer in the Dell
Pro Problems
>
Math
>
Geometry
>
Rectangles and Squares
The Farmer in the Dell
Farmer Dell has a field that is shaped like a letter L, and he wants to divide it into three parts, as shown below: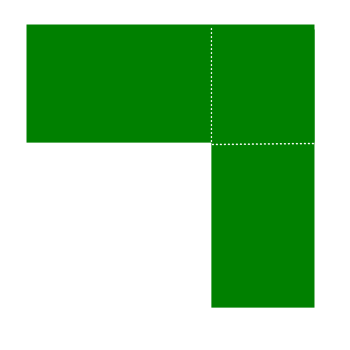 The region in the upper right corner has a perimeter of 140 yards. The regions in the upper left corner and the lower right corner both have perimeters of 180 yards. He originally had enough fencing to enclose the two top regions, and now he needs an extra 140 feet of fencing to complete the job.
What is the total area of his field?
Presentation mode
Problem by Mr. Twitchell
Solution
In order to make it feasible for teachers to use these problems in their classwork, no solutions are publicly visible, so students cannot simply look up the answers. If you would like to view the solutions to these problems, you must have a
Virtual Classroom subscription
.

Assign this problem
Click here to assign this problem to your students.

Do you have a question you would like to ask Professor Puzzler? Click here to
ask your question
!
Get a FREE Pro-Membership!
Educators can get a free membership simply by sharing an original lesson plan on our Articles for Educators page!



Like us on Facebook to get updates about
new resources