I Have a Dream, Part Two
Reference
>
History
>
United States
>
I Have a Dream (Martin Luther King Jr.)
"But there is something that I must say to my people who stand on the warm threshold which leads into the palace of justice. In the process of gaining our rightful place we must not be guilty of wrongful deeds. Let us not seek to satisfy our thirst for freedom by drinking from the cup of bitterness and hatred.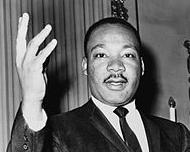 "We must forever conduct our struggle on the high plane of dignity and discipline. We must not allow our creative protest to degenerate into physical violence. Again and again we must rise to the majestic heights of meeting physical force with soul force. The marvelous new militancy which has engulfed the Negro community must not lead us to distrust of all white people, for many of our white brothers, as evidenced by their presence here today, have come to realize that their destiny is tied up with our destiny and their freedom is inextricably bound to our freedom. We cannot walk alone.

"And as we walk, we must make the pledge that we shall march ahead. We cannot turn back. There are those who are asking the devotees of civil rights, "When will you be satisfied?" We can never be satisfied as long as our bodies, heavy with the fatigue of travel, cannot gain lodging in the motels of the highways and the hotels of the cities. We cannot be satisfied as long as the Negro's basic mobility is from a smaller ghetto to a larger one. We can never be satisfied as long as a Negro in Mississippi cannot vote and a Negro in New York believes he has nothing for which to vote. No, no, we are not satisfied, and we will not be satisfied until justice rolls down like waters and righteousness like a mighty stream.
"I am not unmindful that some of you have come here out of great trials and tribulations. Some of you have come fresh from narrow cells. Some of you have come from areas where your quest for freedom left you battered by the storms of persecution and staggered by the winds of police brutality. You have been the veterans of creative suffering. Continue to work with the faith that unearned suffering is redemptive.

"Go back to Mississippi, go back to Alabama, go back to Georgia, go back to Louisiana, go back to the slums and ghettos of our northern cities, knowing that somehow this situation can and will be changed. Let us not wallow in the valley of despair."
Questions
1.
How is this section of King's speech different from the first section?
2.
List at least two main concerns that King addresses in this section of his speech.
3.
List three social inequalities that King talks about in this section of his speech.
4.
What do you think King means when he speaks of "soul force"?
5.
King uses the image of water several times in this speech. What does he use water to symbolize?
6.
Keeping in mind that King was a Baptist minister, comment on the following statement: "Continue to work with the faith that unearned suffering is redemptive."

Assign this reference page
Click here to assign this reference page to your students.

I Have a Dream, Part One

I Have a Dream, Part Three
Blogs on This Site

Reviews and book lists - books we love!

The site administrator fields questions from visitors.

Like us on Facebook to get updates about
new resources