Martin Luther King Jr. Bio
Reference
>
History
>
United States
>
I Have a Dream (Martin Luther King Jr.)
Every year in the middle of January, students in the United States get a day off from school, and we refer glibly to "Martin Luther King Day," but many who "celebrate" MLK day don't really even know who Martin Luther King Jr. was.

In this reading, you'll learn a little bit about King, and in subsequent readings you will have the opportunity to explore his most famous speech--his "I have a dream" speech.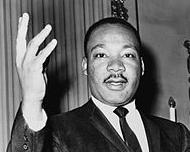 King was born in 1929 to a Baptist minister and his wife, in Atlanta, Georgia. King had occasional doubts about the Christian beliefs of his family, but nevertheless chose to attend seminary, and graduated with a Bachelor of Divinity degree. 

Although many don't realize it, his speeches and letters are filled with Biblical references. For example, when King said, in his famous "I have a dream" speech, "No, no, we are not satisfied, and we will not be satisfied until justice rolls down like waters and righteousness like a mighty stream," he was quoting the Old Testament book of Amos (Amos 5:24).

King married Coretta Scott, and they had a family of four children.

King then became pastor of a Baptist church in Alabama, but none of this is what made Martin Luther King Jr. famous.

King was heavily involved in the civil rights movement, protesting racial discrimination and injustice toward African Americans, who did not enjoy the same rights as white America. King was firm in his belief that the cause of civil rights must be advanced by nonviolent means. He participated in many marches and protests, but always called the people to protest without violence.
On August 28th, 1963 (one hundred years after Abraham Lincoln delivered his famous Gettysburg Address), between 200,000 and 300,000 demonstrators gathered in front of the Lincoln Memorial to hear King deliver his "I have a dream" speech--a speech which is quoted nearly as often as Lincoln's famous speech.

King, along with other civil rights leaders, then met with President Kennedy to discuss legislation preventing racial discrimination. Kennedy was assassinated later that year, but in 1964, his successor, President Johnson, was able to sign into law the Civil Rights Act of 1964, which banned discrimination based on any of the following factors: race, color, religion, sex, or national origin.

Many were suspicious of King; he was considered a radical, and was frequently under investigation by the FBI.

In 1964, King was awarded the Nobel Peace Prize for his nonviolent approach to fighting for civil rights.

King was assassinated four years later in Memphis, Tennessee, on April 4th, 1968.

Today we often take for granted many of the rights and liberties that King fought and died for.
Questions
1.
Why was the year of King's "I Have a Dream" speech significant?
2.
Why was King awarded a Nobel Prize?
3.
What was King's religious affiliation?
4.
Two assassinations were mentioned in this article; who was assassinated, and when?
5.
How old, approximately, was King when he delivered his "I Have a Dream" speech?

Assign this reference page
Click here to assign this reference page to your students.

Unit Index

I Have a Dream, Part One
Blogs on This Site

Reviews and book lists - books we love!

The site administrator fields questions from visitors.

Like us on Facebook to get updates about
new resources