Dinosaur State Park
Lesson Plans
>
Field Trips
>
United States
>
Connecticut
Dinosaur State Park

For children fascinated by dinosaurs, this park is like a piece of heaven on earth. We visited this park almost by accident - it was not part of our trip itinerary, because we didn't even know it existed. We saw a sign for it on the interstate, and looked it up online. We then shoehorned it into our schedule for the return journey. The day before our DSP visit, we had visited Bruce Museum in Connecticut. Bruce Museum also had a dinosaur display (a temporary one), which contained some of the same types of fossils as DSP, so it was a nice "prelude" to the park. As we were looking at tracks called "Eubrontes" at the museum, I said to my son, "Remember what those are called, because I think you're going to hear that name again on this trip!"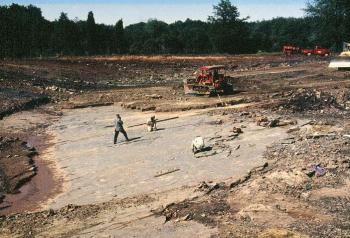 Eubrontes is not a dinosaur. It's the name of a specific artifact left by dinosaurs - the footprints discovered in the Connecticut valley. In 1966, while excavating for a new building, workers unearthed the tracks in the rock. Plans for the building were halted, and the site was excavated by paleontologists, who discovered about 2000 dinosaur tracks in the area. The majority of these tracks where then re-buried for preservation, but over 500 tracks were enclosed within a geodesic dome so visitors could see them.
The dinosaur is believed to be a Dilophosaurus, but since there are no fossilized bones in the area, they don't state for sure what kind of dinosaur it is.
For my four-year-old son (who loves dinosaurs) the really exciting part of this was the realization, as we stood on the walkway overlooking the Eubrontes, that dinosaurs actually walked here! First, at the museum, he got to see a footprint in a display case on a wall, but then he got to see a massive array of prints in the ground. He repeatedly said to us, "Real dinosaurs walked right there!"
The indoor part of the park has much more than the footprint display; they have full size models of dinosaurs, many other types of fossils, informational videos, and a discovery room where children can hold real fossils, color pictures, read books, and play with toy dinosaurs.
The dome also houses a small auditorium, where visitors can go at certain times (times are posted, and also announced over a P.A. systems) to watch educational videos.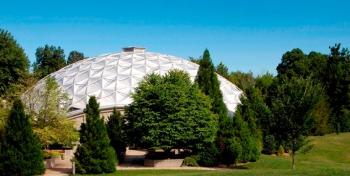 Outside the dome, there are a couple miles of hiking trails through the woods and marshes (with a boardwalk taking you over the marshes, so you don't have to trudge through mud), plus an arboretum. Also, if you bring your own supplies (which you can find listed on their website), you can make a cast of a real dinosaur footprint to take home with you.
Remember to hang on to your receipt; if you leave the dome, you'll need it to get back in again. We explored everything in the dome except the gift shop, then went outside to wander the trails and eat lunch, and then came back in to let the children each pick a small souvenir toy before leaving.  We were there for three hours and could have stayed longer, if our travel schedule hadn't required us to move on.
For our family of four (two children under 6) the cost was $12 (in 2017). Teens and adults are $6, children 6 - 12 are $2, and young children are free. The park hours and fees are listed on their website.
Lesson by Mr. Twitchell

Blogs on This Site

Reviews and book lists - books we love!

The site administrator fields questions from visitors.

Like us on Facebook to get updates about
new resources