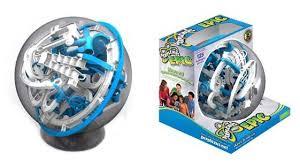 This is a combination of manual dexterity and problem solving. Manual dexterity is necessary to keep the marble on the track. But problem solving is also required to figure out the proper way to turn and rotate the globe to move from one obstacle to another.

The Perplexus comes in three flavors: Rookie Perplexus, Original Perplexus, and Perplexus Epic, which is featured here.
We have the "Original Perplexus" and have found it to be a great conversation piece; when we have visitors in our home, often the Perplexus ends up getting passed around the room repeatedly, as people take turns trying to get through the three dimensional labyrinth.
Understanding Coronavirus Spread
A Question and Answer session with Professor Puzzler about the math behind infection spread.
Blogs on This Site

Reviews and book lists - books we love!

The site administrator fields questions from visitors.

Like us on Facebook to get updates about
new resources