Apple
Reference
>
Science
>
Technology
>
Search It Out!
The Search It Out unit was designed to help students get practice using search engines to find information online. We have done out best to provide questions which can be answered with some very basic search queries in Google, Yahoo, or any other search engine.
For your convenience, we have provided a Google safe search box below.
Questions
1.
What was Johnny Appleseed's real name?
2.
Name three varieties of apples.
3.
In what state is the apple blossom the state flower?
4.
Which US states produce the most apples? (list the top three)
5.
What is the best climate for apple growing?
6.
Give the word for "apple" in French.
7.
In what year was Apple Corporation founded?
8.
In what year was Johnny Appleseed born?
9.
How many apples does it take to make a 9" apple pie?
10.
Why do apple slices turn brown?

Assign this reference page
Click here to assign this reference page to your students.

Unit Index

Paper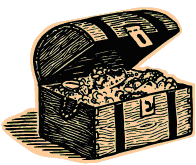 Do you have a question you would like to ask Professor Puzzler? Click here to
ask your question
!
Get a FREE Pro-Membership!
Educators can get a free membership simply by sharing an original lesson plan on our Articles for Educators page!



Like us on Facebook to get updates about
new resources