scrounge: /skrounj/ informal verb: to actively seek [books] from any available source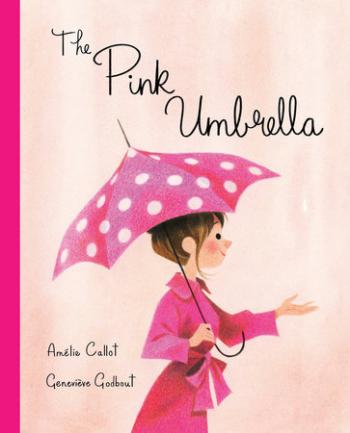 The Pink Umbrella, originally published in French, is a tender story about a woman named Adele who manages a cafe, and loves the sunny weather. But when it rains, she has a hard time coping. 
But then someone begins leaving her gifts to help protect her in the rainy weather, and she wonders who it could be... 
The illustrations here are just perfect -- there's a lot of pink of course, but it doesn't feel overdone because the tones are so soft and beautiful. The story has just the right touch of romance to it which is communicated through thoughfulness and friendship -- the very best kind, in my opinion.
The only thing I didn't like was how the first quarter or so was written -- it felt like too much direct "summary" that didn't flow very well, and sometimes switched tenses as well. Of course, perhaps the fact that this is a translation is why it feels a bit clunky to me, but it's absolutely worth reading. It's not even that wordy, overall, but probably would appeal more to older children (or adults!) than younger ones.
(Thanks to NetGalley for the review copy.)
Scrounged From: NetGalley
Format: Kindle
Author: Amélie Callot
Illustrator: Geneviève Godbout
Pages: 72
Content Advisory: None

Blogs on This Site

Reviews and book lists - books we love!

The site administrator fields questions from visitors.

Like us on Facebook to get updates about
new resources