scrounge: /skrounj/ informal verb: to actively seek [books] from any available source
Category results for '1st-grade'.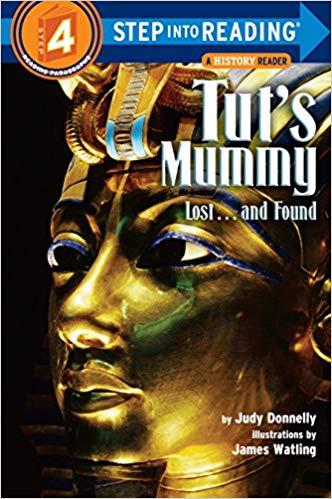 Tut's Mummy: Lost...and Found! is a book I just read to my first-grader, but also one that I remember having read to me as a child. I think it must have really sparked my imagination for ancient cultures, because I still remember many details from the story, such as Howard Carter touching a necklace and watching the thread turn to dust, and the description of him looking on Tut's face for the first time.
Just the magnitude of this discoverey and its treasure and the fact that these objects and Tut himself had been preserved for so long is mind-boggling, and as an adult I can better appreciate just what Tut's mummy must have meant to archaeology and culture at the time. 
For many kids this may be one of their main introductions to ancient history, so it's fun to think of how many have enjoyed this over the few decades since it's been published.
Scrounged From: A curriculum sale
Format: Paperback
Author: Judy Donnelly
Illustrator: James Watling
Pages: 48
Content Advisory: Brief description of death, and a brief mention that some believed in the "mummy's curse."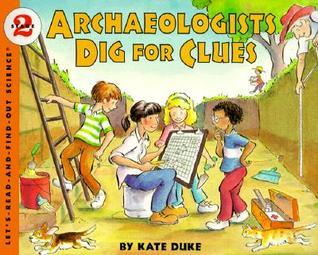 Archaeologists Dig for Clues provides an engaging and informative look at how archaeologists work, as a few schoolchildren work with an archaeologist named Sofie to look for artifacts in the remains of an Archaic-era settlement.

I like how this book makes archaeology look exciting, but also focuses on the scientific processes involved -- writing things down, looking for even the tiniest artifacts (most finds don't seem all that glamorous, and consist largely of ancient people's garbage!), and keeping track of where items are found. But when they put all the pieces together, they can infer quite a bit about how people might have lived, and even how their settlement may have been structured.
Scrounged From: Homeschool Classifieds (Sonlight Core B)
Format: Paperback
Author/Illustrator: Kate Duke
Pages: 32
Content Advisory: None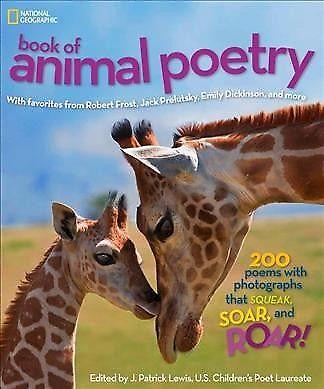 National Geographic Book of Animal Poetry is a large keepsake book full of gorgeous animal photography, and includes poems about animals from many well-known poets such as Robert Frost, Ogden Nash, Hilaire Belloc, Mary Ann Hoberman, and many more.
I really had no idea there were so many child-friendly poems about so many different kinds of animals. The book is organized into sections which start off with some well-known animals such as "the big ones" and "the winged ones" but goes on to include categories like "the strange ones" and "the noisy ones." 
We're reading through this book this year and my kids and I are enjoying it. Some poems are funny, most are short, most are also straightforward, though some are more abstract, but the photography helps anchor the subject matter. This would be a great book for any home with children -- but also for adults who love animals and poetry too!
Scrounged From: Amazon
Format: Hardcover
Author: Various -- edited by J. Patrick Lewis
Pages: 192
Content Advisory: None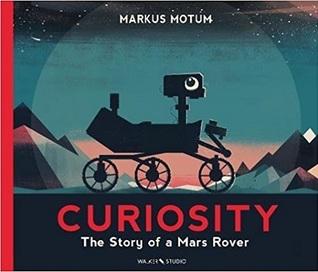 Curiosity: The Story of a Mars Rover is a great book for kids who are curious about outer space and astronomy, robots, or science and technology in general. While it conveys a lot of information and has more pages than many picture books, most pages aren't very wordy and so it might also appeal to some pre-kindergarten-aged children too.
The story is told from the perspective of Curiosity itself, and that plus the eye in the cover picture made me a bit wary, because it can be easy for the personification of non-human characters to distract from the story or veer into absurdity. But I think it works here. Curiosity's story is still told in a straightforward, nonfictional manner -- the personification wasn't done for entertainment value but instead to help keep the narrative relatable and focused.
This book is about Curiosity, but it's largely about science in general -- about questions and answers and why we send all these robots into space to begin with. I like how the grander desire for exploration is expressed so clearly throughout the story of the robot, making the scope much larger than just one robot or planet.
Of course, the robot's story is primary, from the whys and hows of development, to interesting details and complications involved in the launch, to the tension of the final moments of Curiosity's arrival on Mars that was witnessed by people around the globe. And all this still manages to stay within the realm of understanding of a young elementary-aged child. 
I thought this book was really well done, and would make a great gift or science resource for elementary-aged children.
Scrounged From: Amazon
Format: Hardcover
Author/Illustrator: Markus Motum
Pages: 56
Content Advisory: None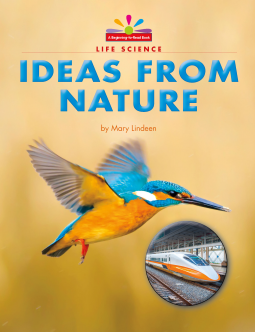 Ideas from Nature is a simple early reader book featuring different aspects of nature that engineers and inventors have copied for people to use. 
The clear photos illustrate ideas such as hook-and-loop closures (like Velcro) and the burrs that inspired them, snakes and snake-bots which have a few different uses, architecture shaped like a giant flower, and more.
This is a great way to inspire kids to look around at the ingenuity present in nature, as they grow in confidence with reading.
(Thanks to NetGalley for the review copy.)
Scrounged From: NetGalley
Format: Kindle
Author: Mary Lindeen
Pages: 32
Content Advisory: None
Older posts

Blogs on This Site

Reviews and book lists - books we love!

The site administrator fields questions from visitors.

Like us on Facebook to get updates about
new resources