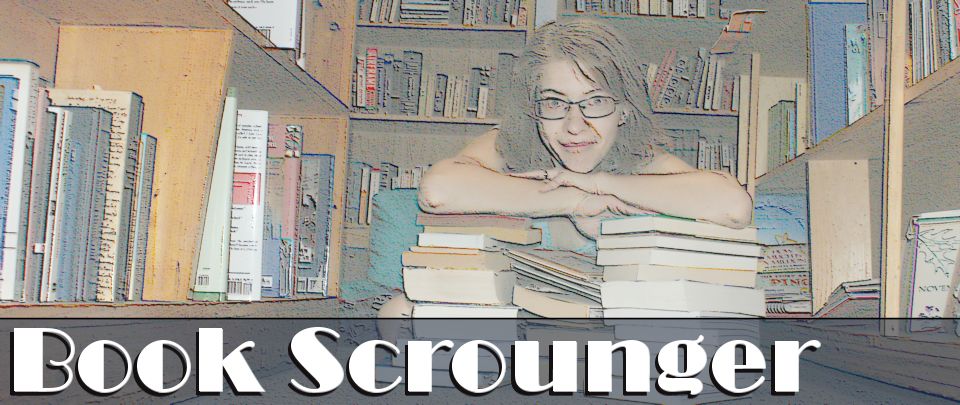 scrounge: /skrounj/ informal verb: to actively seek [books] from any available source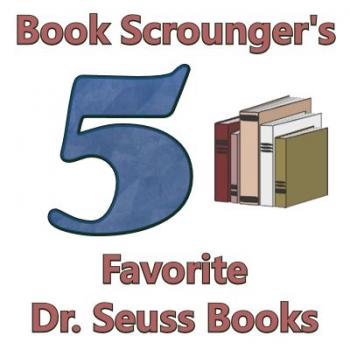 I grew up with Dr. Seuss -- I remember my mom reading me The Cat in the Hat, and I spent plenty of time reading his books to siblings, and then to my own kids. I've probably got Hop on Pop memorized, and can do a pretty fast rendition of Fox in Socks by now. 
Coming up with my top 5 Dr. Seuss books was hard, but I did my best. Here they are, starting with 5: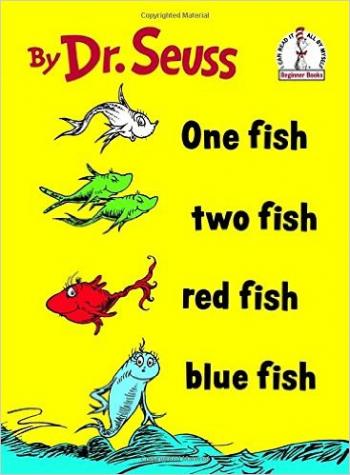 5. One Fish, Two Fish, Red Fish, Blue Fish is one of the "beginnger books" that I grew up with. But I don't believe we ever owned it, so I didn't come to know it forwards and backwards like some of the others -- I think that added to its appeal. This book is basically a celebration of weird creatures that Dr. Seuss has invented, explained by the tagline "From there to here, from here to there, funny things are everywhere." It features such favorites as the Yink who drinks pink ink, the Zans for cans, the Yop who likes to hop, as well as other memorable inventions that remain unnamed.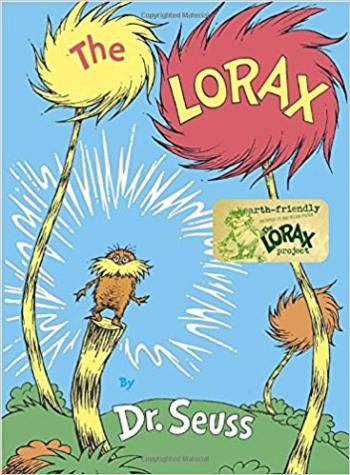 4. The Lorax is one Dr. Seuss book that I didn't encounter until I was an adult. I'd heard of it, of course, since it was made into a movie, and knew it had something to do with trees, but that was about it. The story speaks fairly bluntly to our materialism and consumerism, and yet it doesn't feel overdone. Seuss knew how to make use of absurdity and hyperbole with just enough reality thrown in to drive his point home.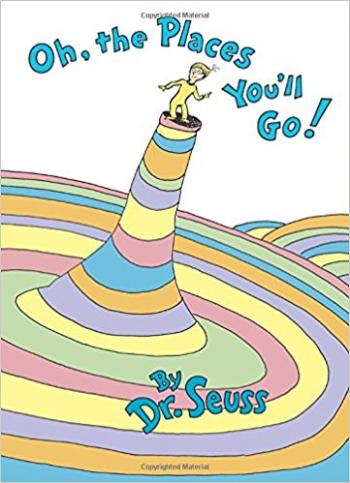 3. It's a common graduation gift, but Oh, the Places You'll Go! is another that I didn't read until adulthood. It's a celebration of freedom and potential, declaring "You have brains in your head. You have feet in your shoes. You can steer yourself any direction you choose." It promotes self-determination, persistence, and courage, while also giving encouragement for the difficult, lonely, and confusing times of life (because they will come). I think it still has a lot to say to those of us who are long out of college, and in such creative, evocative, and sometimes absurd ways. 
2. I'm pretty sure Did I Ever Tell You How Lucky You Are? was the first Dr. Seuss book I ever personally owned, so it holds a special place in my heart. My copy is falling apart now, but I still don't have the heart to throw it in the recycling bin. It's full of wacky, absurd situations (some of them quite intricately illustrated) in which someone is stuck in a difficult position (though often humorously so), which is then used to point out that some people are "ever so muchly much much more unlucky than you." Some may see this as being dismissive, but I think this is far too silly and crazy to be taken that seriously. I think it was just a way for Dr. Seuss to make up a whole bunch of weird scenarios for the fun of it. I also never knew it was possible to feel bad for a coat hanger.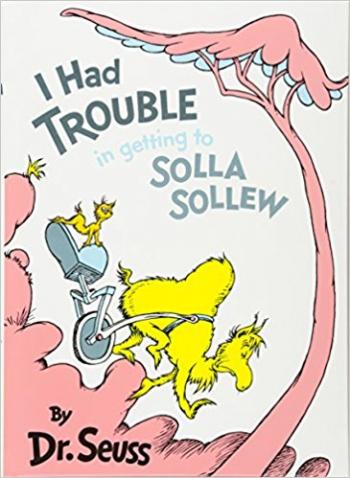 1. I Had Trouble in Getting to Solla Sollew is my all-time favorite Dr. Seuss book, hands down. It's the story of a... well... a Seussical creature who lives in a place where he's constantly getting attacked by other Seussical creatures with strange names. But then he hears the tale of a place called Solla Sollew, "where they never have troubles, at least very few." So off he goes in search of this Seussian utopia, but he finds the journey to be anything but easy. After many detours and setbacks, he finally arrives at his destination, and finds that there's only one tiny trouble -- but it prevents him from getting in. The message I took from the story is that you can't run away from your troubles -- in the end, he learns to face them. As a kid, while I appreciated the ending, it also gave me this sad feeling -- like, I really wanted to see what was inside Solla Sollew. It looked so amazing. It was like realizing utopia isn't real, which I guess is just the kind of let-down we all need at some point. But sometimes I would still have dreams about it, like the Seussical creature did -- what would it be like to fall asleep on a pile of marshmallow-stuffed pillows? Probably we don't have to invent utopia to find out.
Of course, there are others. I also really like How the Grinch Stole Christmas! (review here), Oh, the Thinks You Can Think!, and If I Ran the Circus!, among others. But I decided five was all I could try and rank for now -- more would be too difficult!
Featured Games on This Site
Match color, font, and letter in this strategy game
Trap all the dots in this problem-solving puzzle
Blogs on This Site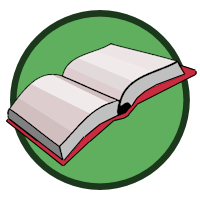 Reviews and book lists - books we love!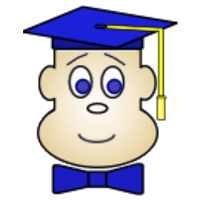 The site administrator fields questions from visitors.

Like us on Facebook to get updates about
new resources