scrounge: /skrounj/ informal verb: to actively seek [books] from any available source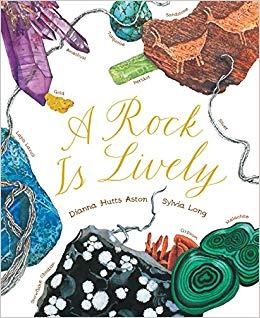 I can't say that "lively" would be my first choice for "best words to describe rocks," but I also wouldn't have considered the pyramids of Giza in the same thought as comets either, yet both are neatly contained within this succinct exploration of rocks.
I really love this series. A Rock Is Lively takes us on a journey to discover and ponder the scope of rocks, from sandy beaches to asteroids. Like A Seed Is Sleepy (see my review here), the variety here is impressive and awe-inspiring, without being overwhelming. The illustrations are gorgeous, capturing the colors and sparkles of gems as well as the numerous earth tones of more "ordinary" rocks.
We learn about the rock cycle, what rocks are made of, where we can find rocks, and some of the things rocks are used for -- from tools for animals and people, to use as art and weapons throughout history. Phrases like "A rock is inventive..." are the only places I'd consider that this diverges a bit from strict nonfiction, but that's forgiveable because the poetic descriptions add a lot to this book and make it a bit more "lively" than your average geology book. I really love that this series makes topics like this interesting and accessible to small children, but also teaches us older people a thing or two, even if it's just to say "Wow!"
Scrounged From: A Christmas present
Format: Paperback
Author: Dianna Hutts Aston
Illustrator: Sylvia Long
Pages: 40
Content Advisory: None

Blogs on This Site

Reviews and book lists - books we love!

The site administrator fields questions from visitors.

Like us on Facebook to get updates about
new resources