scrounge: /skrounj/ informal verb: to actively seek [books] from any available source
Category results for 'Eastern-Europe'.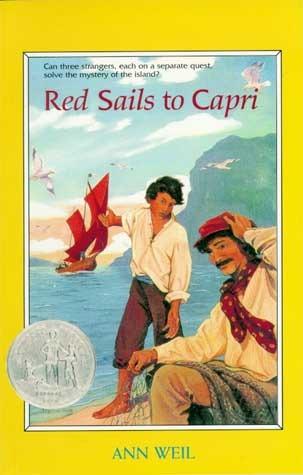 The title of Red Sails to Capri confused me initially. Was "Red" a person who sailed to Capri? Or did something with red sails sail to Capri? And if so, what and why? All that aside, I ended up enjoying this book more than I thought I would.
The sails indeed belong to a ship which shows up in the harbor of Capri, carrying three travelers who are each looking for something slightly different. They stay at an inn owned by the family of Michele, a boy who is the main character. The travelers eventually become intrigued by a cove on the island that the locals fear -- and yet no one seems to know why. I won't give too much away, but it was fun to see adventure trump fear here, and even neater to realize that the name of this cove is an actual place on the island of Capri in Italy -- be sure to google it once you've finished!
I wouldn't really call this story a "mystery" just because there is a bit of mystery in it -- but still, I enjoyed the eccentric characters, especially the banter between Michele and Angelo, and also Michele's mother, a cook who has a complicated repertoire of songs that must be sung to her food at just the right time, or else it is ruined. She treats her dishes and ingredients as if they were cantankerous people who must be appeased before they deliver the finished product. 
Scrounged From: A friend on GoodReads
Format: Paperback
Author: Ann Weil
Pages: 160
Content Advisory: I don't remember anything objectionable for the age group it's aimed at.

Blogs on This Site

Reviews and book lists - books we love!

The site administrator fields questions from visitors.

Like us on Facebook to get updates about
new resources