scrounge: /skrounj/ informal verb: to actively seek [books] from any available source
Category results for '3rd-grade'.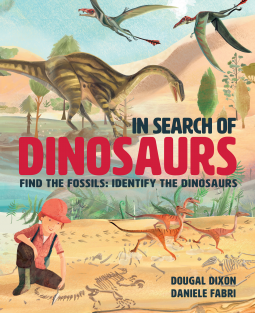 Living with a dinosaur fan can be fun, and I know I've been exposed to and learned so much more about dinosaurs and fossils than I ever did as a kid, thanks to my son taking an interest in them. In Search of Dinosaurs is a dinosaur book that helps to make some connections between the artistic recreations of Mesozoic animals that we see and the fossil dig sites where information about these creatures and environments is collected.
There is a section for each of the three time periods in the Mesozoic Era, and each follows the same format. First we see an artist's recreation of a hypothetical fossil dig. On the next few pages, we see scenes (without text) of what these animals may have looked like when they were alive. This gives readers the opportunity to go back and forth between the fossils and creatures and see if they can figure out which of the living creatures (or parts of them) are represented in the dig.
These scenes are followed by smaller pictures and information blurbs about each creatures -- mostly dinosaurs, but also some other animals such as Cretaceous turtles, as well as ammonites, metaposaurus, a small mammal, etc. There are plenty of good tidbits of information here, but they're presented in a way that's easy to follow. Since the fossils are presented "in context," we also learn a bit more about the kinds of things paleontologists find in digs, and some of the ways they can find clues as to the dinosaurs' behaviors and environments.
(Thanks to NetGalley for the review copy.)
Scrounged From: NetGalley
Format: Kindle
Author: Dougal Dixon
Pages: 44
Content Advisory: None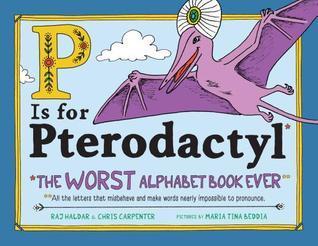 I thought P Is for Pterodactyl: The Worst Alphabet Book Ever looked like an amusing book when I first saw it, so I was glad I got it for Christmas last month. It'll make a great conversation piece, and as a proofreader I'm all too familiar with the difficulty that certain English words give us (myself included) -- we have plenty of exceptions to our language rules!
I was indeed amused while reading this, and found it a fun way to collect a good percentage of silent consonants in one place. Probably this wouldn't appeal to children until they were old enough to be reading some of these more difficult English words, but it could also be useful for someone who's learning English as an adult.
In some ways this alphabet book isn't consistent, because not every letter is used as a silent first letter the way P is (as in "Ptolemy the psychic pterodactyl struggles with psoriasis"), but that's understandable. For many letters, the text instead focuses on silent letters in other parts of words (such as the "n" in "hymn" and "autumn" or the "z" in "rendezvous"). Sometimes the book simply points out what a letter is not for, as in "F is not for photo, phlegm, phooey, or phone." Occasionally it "cheats" a little and focuses on words that are more clearly from other languages (J is for Jai Alai, a sport of Basque origin). 
But despite the fact that I think it "reaches" for a few of these, the premise is funny and it does a good job collecting so many weird words with silent letters. At the end is a glossary, which is helpful because I've always wondered how "gnocchi" was pronounced, plus it includes an explanation for why "ptero" got the "p" in the first place.
Scrounged From: A Christmas present from my brother
Format: Hardcover
Authors: Raj Haldar and Chris Carpenter
Illustrator: Maria Beddia
Pages: 32
Content Advisory: None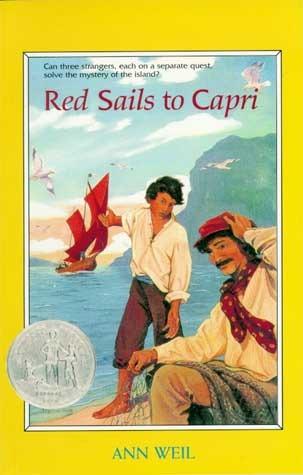 The title of Red Sails to Capri confused me initially. Was "Red" a person who sailed to Capri? Or did something with red sails sail to Capri? And if so, what and why? All that aside, I ended up enjoying this book more than I thought I would.
The sails indeed belong to a ship which shows up in the harbor of Capri, carrying three travelers who are each looking for something slightly different. They stay at an inn owned by the family of Michele, a boy who is the main character. The travelers eventually become intrigued by a cove on the island that the locals fear -- and yet no one seems to know why. I won't give too much away, but it was fun to see adventure trump fear here, and even neater to realize that the name of this cove is an actual place on the island of Capri in Italy -- be sure to google it once you've finished!
I wouldn't really call this story a "mystery" just because there is a bit of mystery in it -- but still, I enjoyed the eccentric characters, especially the banter between Michele and Angelo, and also Michele's mother, a cook who has a complicated repertoire of songs that must be sung to her food at just the right time, or else it is ruined. She treats her dishes and ingredients as if they were cantankerous people who must be appeased before they deliver the finished product. 
Scrounged From: A friend on GoodReads
Format: Paperback
Author: Ann Weil
Pages: 160
Content Advisory: I don't remember anything objectionable for the age group it's aimed at.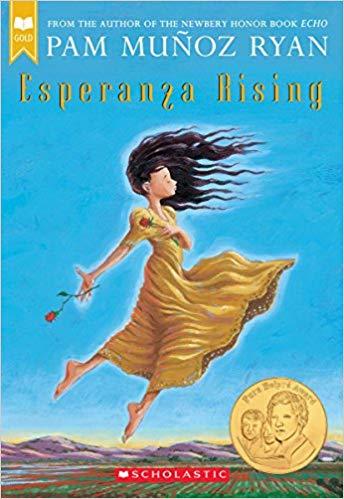 Esperanza Rising is a story inspired by the author's ancestors who came to the United States from Mexico around the time of the Dust Bowl. Esperanza (which means "hope" in Spanish) enjoys a privileged life in a rich family until her father is killed and she and her mother flee to America. 
I like the way Esperanza changes as a character during the course of the story. She has a hard time adjusting to a new life of labor where she doesn't even know how to use a broom, given her former lifestyle. But she also sees how the class differences that used to divide her from her servant friends are disappearing as they travel and work together.
The themes of wealth, power, strength, and weakness are explored throughout the story, as well as the importance of family and friendship. I couldn't help but notice the timeliness of this book considering how immigration is in the news these days. Overall it was a very readable story and I enjoyed it -- I could definitely see using it for a history unit.
Scrounged From: PaperbackSwap.com
Format: Paperback
Author: Pam Munoz Ryan
Pages: 304
Content Advisory: Death of a loved one takes place, though it is not explicitly described.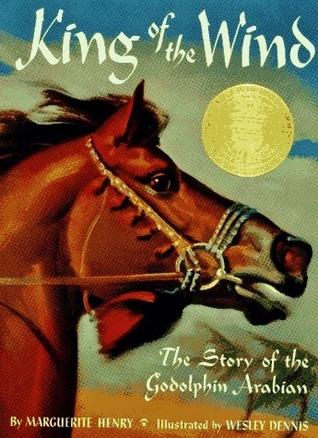 Many girls love horses, and while I was not as intense as some (I never sought out riding lessons or anything like that), if my eventual fascination can be traced back to anything, I think it would have to be this book. King of the Wind is definitely my favorite of Marguerite Henry's many horse stories.
On the surface, it is the story of a boy and his horse, and the ups and downs (and eventual triumphs) of their journey together through several countries. But I feel that Henry has captured more than just a story here -- it feels like a legend, and Sham, while remaining a non-anthropomorphized horse, portrays a little something beyond just an animal -- he really feels like a historical figure who has since become larger than life.
I remember how much this book gripped my imagination as a girl -- I felt Agba's innocence, loneliness, and occasional despair, and felt so keenly the connection between the horse and the boy. This was aided by Wesley Dennis's superb illustrations, which capture the beauty of the horse characters throughout their many movements (if you can get a copy of this book that has the full color illustrations, do it!).
On another level, I think this book reminds us all that we are more than our "pedigrees." Sham proves himself by what he does, not by what is written down about who/where he comes from.
Scrounged From: PaperbackSwap.com
Format: Hardcover
Author: Marguerite Henry
Illustrator: Wesley Dennis
Pages: 176
Content Advisory: There are some depictions of cruelty to horses and people.
Older posts

Blogs on This Site

Reviews and book lists - books we love!

The site administrator fields questions from visitors.

Like us on Facebook to get updates about
new resources