scrounge: /skrounj/ informal verb: to actively seek [books] from any available source
Search results for 'puzzler'.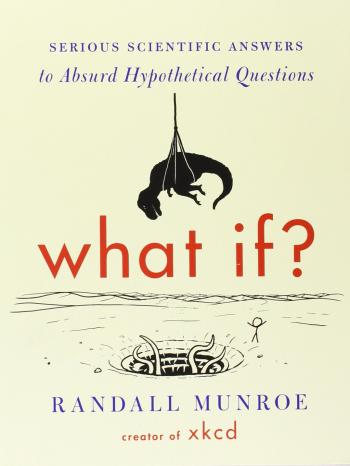 I would probably never have heard of Randall Munroe if Professor Puzzler were not such a fan of the xkcd comic strip. Munroe is a former NASA scientist, and apparently after writing the strip for a while he began serving as a "Dear Abby for mad scientists," as he puts it. So What If? Serious Scientific Answers to Absurd Hypothetical Questions is a collection of some of the most interesting (as well as bizarre) questions he has received, and his scientific answers to them, complete with his trademark stick-figure comics here and there to throw in some snappy comments.
I enjoyed reading it, despite not being really all that mathematically inclined. There are a few questions that got a bit over my head, but the majority of it should be fairly accessible to those who paid attention in high school science classes. His dry sense of humor really adds to the explanations, and many of the questions are so over-the-top that it's fun to see how he lays out his answers. 

One example of the ridiculous questions is: "How quickly would the oceans drain if a circular portal 10 meters in radius leading into space were created at the bottom of Challenger Deep, the deepest spot in the ocean? How would the Earth change as the water was being drained?"

Which leads to not only an answer, but a full illustration of an altered map of the world on the inside of the book's dust jacket, complete with new names for the resulting new land masses and bodies of water. Another question/answer involves the logistics of building a bridge across the Atlantic Ocean made entirely out of Legos.

Even if you're usually an ebook or audiobook person, this is one case where you really can't beat the real thing. 
Scrounged From: Amazon
Format: Hardcover
Author: Randall Munroe
Pages: 303
Content Advisory: Some questions involve things like explosions and death, but it's all treated very hypothetically and impersonally. At least one question deals with blood, which might make some readers queasy.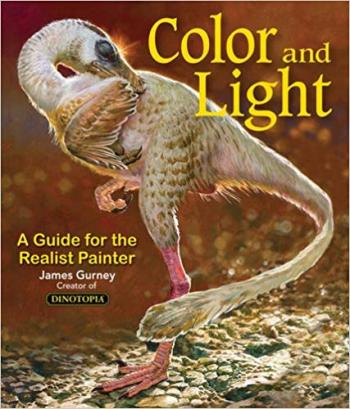 Book Scrounger's note: The following is a guest review by Doug, a.k.a. Professor Puzzler.
Color and Light was a Christmas gift Book Scrounger gave me this year. Now it's two days later, and I've already finished reading it, but I intend to keep it close at hand for a long time, because it is a fantastic reference work for artists, and it has plenty of beautiful paintings to study and learn from.
This book was written by James Gurney, the creator of Dinotopia. Dinotopia is a fantasy land in which humans co-exist with intelligent dinosaurs. It has been described as a fully-imagined world on par with Tolkien's Middle Earth. I've never read Dinotopia, but Gurney's artwork is beautiful. He describes himself as an "Imaginative Realist."
As someone who is interested in both art and science, I found this book fascinating and informative. Gurney doesn't just talk through how to draw a rainbow -- he explains why rainbows exist, and how they relate to the position of the sun and the antisolar point. What? You don't know what the antisolar point is? I guess you'd better read this book!
Seriously, maybe you're wondering why you need to know the science behind rainbows, or shadows, or reflections in the water. Aside from the fact that these things are interesting, they're also very valuable if you're painting something from your imagination. If you're going to paint a rainbow in an imagined scene, you must understand how rainbows work, or you won't be able to position the rainbow correctly relative to the horizon, the sun, and the cast shadows all around. And if you can't do that, you can't make a picture look realistic. People will always look at your artwork and think, "Something's not quite right..."
Aside from the informative text, this book is filled with beautiful artwork. It begins with some of the traditional "masters," but then moves on to Gurney's own work. He includes some plein-air paintings, as well as many of his imaginative paintings involving dinosaurs and other creatures. Most of the pictures are oil paintings or watercolor paintings, but there is very little in the book that is specific to any particular medium, so if you use acrylics, colored pencils, or other media, this book will still be valuable.
I just discovered that Gurney also wrote a book titled Imaginative Realism: How to Paint What Doesn't Exist. Ah, well...I guess I've got a birthday coming up in a few months...
Scrounged From: Amazon
Format: Paperback
Author: James Gurney
Illustrator: James Gurney
Pages: 224
Content Advisory: Realistic artwork involving dinosaurs and some "creepy" creatures.
For today's Christmas Books post, rather than focusing on one particular book, we're going to feature several classic short stories that celebrate the Christmas season and have stood the test of time.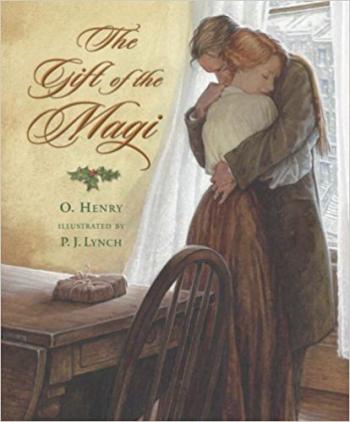 The first is The Gift of the Magi, by O. Henry. While there is a picture book version of this story, the full text is also available on various websites, such as this one. It is also included in The Book of Virtues. This touching, humorous story involves a young married couple (Della and Jim) who are struggling to afford Christmas gifts for each other. After each makes a decision to sell one thing to buy another, they realize that their decisions ultimately resulted in useless gifts! But the focus of the story is on their love for each other despite their difficult circumstances.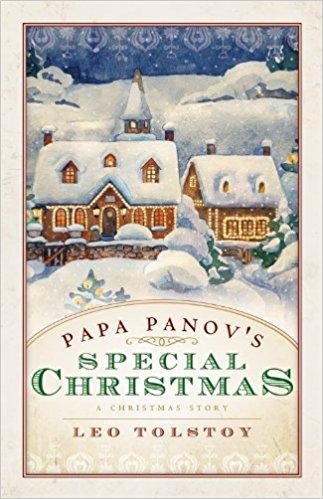 The second is Papa Panov's Special Day. Apparently this story was originally written by Reuben Saillens, a French author, and retold at a later time by Russian author Leo Tolstoy. The text of the Tolstoy version is available here. This story is about a shoemaker who has a dream in which Jesus tells him that he will visit him on Christmas day. Various people in need show up on Christmas, and each time Papa Panov helps them, wondering when Jesus himself will arrive. This story is an embodiment of Matthew 25:35-40 in which Jesus says that when we give to the "least of these," we are really giving to him. The basic story has been adapted in other ways as well, such as "The Christmas Guest," (here's a video that contains the audio of Andy Griffith narrating that story -- and here's one of Johnny Cash and another of Reba McEntire doing the same).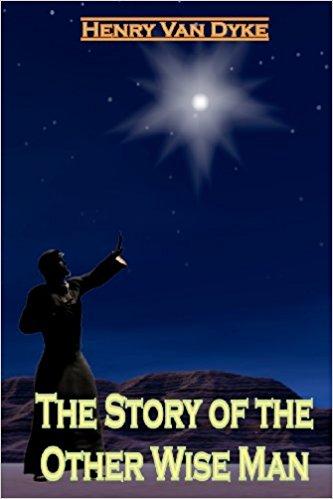 Lastly is Henry Van Dyke's The Story of The Other Wise Man. Van Dyke wrote a poem called "Thou Wayfaring Jesus," which Professor Puzzler and I recorded as a song a few years back. This story (text available online here) involves one of the magi named Artaban, who is delayed in his search for the Christ child, and ends up giving away his treasure in various ways, including one incident where he saves a child from Herod's soldiers. It is similar to the Papa Panov story above (though longer) in that Artaban discovers at the end that he had truly found the Lord by giving of himself to "the least of these."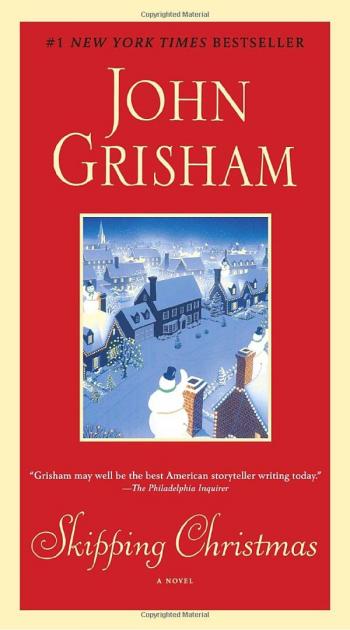 Book Scrounger's note: The following is a guest review by Doug, a.k.a. Professor Puzzler.
There are many people whose only knowledge of the book Skipping Christmas by John Grisham is, "Oh, that's the book that the movie Christmas with the Kranks is based on." If that's your only knowledge of the book, you're really missing out on something.
Even though the movie covers most of the major plot points of the book, it manages to get the book utterly wrong in many ways. So if you weren't a fan of Christmas with the Kranks, give the book a chance. The rest of this review is primarily a comparison of the movie and the book.
Skipping Christmas is the story of Luther and Nora Krank, who decide to skip Christmas (their daughter has moved to Peru, and for the first time in 23 years, they're facing the holiday season without her) and take a holiday cruise instead. Their neighbors and friends are appalled by this decision, and make it very difficult for them to avoid the madness of Christmas preparation. The difficulties they face include: boy scouts who want to sell them a Christmas tree, Reverend Zabriskie worrying about their spiritual condition, and neighbors who are angry with them for having the only house on the street without a giant Frosty on their roof .
It's also the story of two parents who love and miss their daughter. Love and miss her enough that they would do pretty much anything for her.
So how do the book and movie differ? What did the movie get wrong?
Luther Krank, in the movie, is a cheap version of Ebenezer Scrooge. He's the miserable, unlikeable villain who hates Christmas, doesn't particularly care about his family, and wants to ruin Christmas for boy scouts, orphans, and homeless people. In the book, he is none of these things. He's simply a man who wants to take a break from the insanity of our culture's celebration of Christmas. When the boy scouts want him to buy a tree, he firmly refuses, but in the book, the softer side of his nature compels him to tell them, "Come back in the spring, and I'll give you $100 toward Jamboree." Because the movie version of Luther is portrayed as a Scrooge, the movie has to have everyone awkwardly beat him over the head with his meanness in order to get him to change his ways. In the book, his final actions flow much more naturally, because he actually isn't a villain.
The movie ignores subtlety and satire, and goes straight for slapstick. When you read the book, you can think to yourself, "I know these people -- they remind me a lot of people I know." They are a little over-the-top, but not so much that they aren't believable. The movie, on the other hand, repeatedly crosses the line into absurdity. Luther sprays his sidewalk with a hose, making an ice patch for carolers to slip on (and in the process freezes the neighbors' cat into a statue). Vic Frohmeyer runs down the street with his hands stuck in Nora's car window, screaming, "Stop the car, Nora! Stop the car!" A race to the last "hickory honey ham" in the supermarket turns into a cringe-worthy disaster that ends with the ham being flattened in the street by an eighteen-wheeler.
The book knew when to stop. In the book, the first 199 pages lead up to the moment when the neighbors find out about the jam that the Kranks are in. From there, it only takes 28 more pages to wrap up the story -- 28 pages is all that's necessary to move from the problem to a very satisfying solution. The movie, however, shoehorns in a power failure, a burglary, and other very forgettable moments (which annoyed me, but, since they were forgettable, I've already forgotten them -- even though I just re-watched the movie last night). There was no need to to drag out the ending; the joy of the final moments were damaged, rather than enhanced, by the foolishness. And, speaking of damaging the ending, the movie actually added extra slapstick after the heart-warming conclusion; I'm really not sure what the movie-makers thought that would accomplish.
When Publishers Weekly reviewed Skipping Christmas, they claimed that all good Christmas stories have to rely on an element of fantasy because Christmas is a time of miracles. Thus, they reasoned, Skipping Christmas isn't a good Christmas story, because it is so mundane. I disagree with this, but even so, one could argue that there's room for a supernatural element -- the reader is free to interpret the mysterious stranger Marty (who knows everyone, but is known by no one) in either a mundane or supernatural way. Perhaps he is symbolic of all the forgotten people at Christmas time. Or maybe he is a Christmas angel. Or Santa Claus. The movie, of course, clubs you over the head with the supernatural by showing Marty's volkswagen being pulled by a team of reindeer at the end of the movie.
If you didn't like Christmas with the Kranks, that doesn't mean you should skip Skipping Christmas. Give it a chance. And if you did like the movie, I'd still give the book a chance -- I think you'll find it to be a richer experience.
Format: Paperback
Author: John Grisham
Pages: 256
Content Advisory: A little bit of language, peril, etc. The movie is rated PG, and plotwise it follows the book.
Added note: Just for fun, I wrote a Kranky math problem for my high school math students, loosely based on this book: A Kranky Christmas.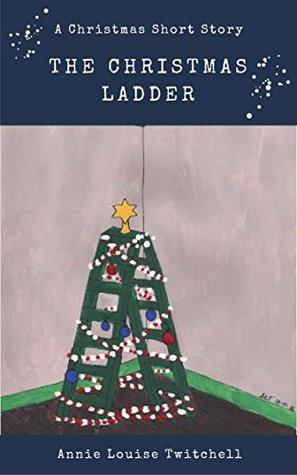 For Day 13 of our Christmas Books series, we're featuring a book called The Christmas Ladder that is actually a short story in Kindle format, but is also personal because it was written by our neice (and she illustrated the cover as well), Annie Louise Twitchell, and is based on a true story from Professor Puzzler's family history.
In the story, Reverend Snow's young family does not have enough money for a Christmas tree, but he uses a little New Englander ingenuity to come up with a solution that works just as well.
This would be a lovely family read-aloud in the days leading up to Christmas!
Scrounged From: Amazon (Kindle)
Format: Kindle
Author: Annie Twitchell
Pages: 10
Content Advisory: None
Older posts
Blogs on This Site

Reviews and book lists - books we love!

The site administrator fields questions from visitors.

Like us on Facebook to get updates about
new resources