scrounge: /skrounj/ informal verb: to actively seek [books] from any available source
Category results for 'art'.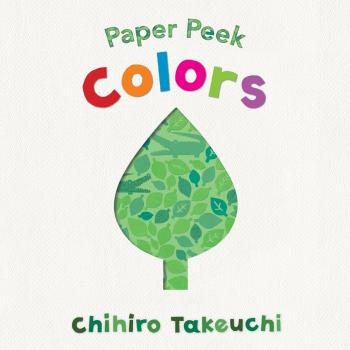 Paper Peek Colors is a large and sturdy board book that introduces colors with large cut-out shapes over a background of cut-paper art of various shades of the featured color. When you turn the page, the area behind the cut-out shape gives 5 different objects (of ascending amounts) to find among the cut-paper art on the opposite side. 
When I saw the search-and-find portion, I thought it was a bit advanced for the 0-3 age range, but it's actually clever because it makes this book appeal to a larger range of ages. My 1-year-old enjoys reading the simple parts of the book, while my 4-year-old and 7-year-old have both enjoyed searching for the hidden objects. So I'd say it was a hit in our house.
My only major complaint is that my favorite color is missing! Purple! I know space is limited, but you'd think that at least all the secondary colors should be included, especially when pink, brown, white, and black are also included. Also, the white page is really mostly gray. But regardless, this is a fun book, and the art is beautiful the way the various shades of each color are arranged together.
(In compliance with FTC guidelines, I disclose that I received this book for free through LibraryThing Early Reviewers. I was not required to write a positive review.)
Scrounged From: LibraryThing
Format: Board book
Author/Illustrator: Chihiro Takeuchi
Pages: 38
Content Advisory: None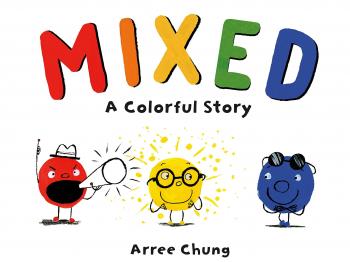 On the surface, Mixed looks like a book about mixing colors. I'd been looking for something like this that would give kids a visual of primary/secondary colors, and I thought it would be great if it was told in a story format to make things more interesting.
Turns out this story does involve mixing colors, but it has a lot more going on and I really like how the deeper issue was portrayed through a relatively simple story. With descriptive but succinct text, the narrative begins with three color populations living together in a city, who soon decide to live apart after an argument about which one is better. Each color keeps their distinctive traits sequestered in their own part of the city, until one day a blue and a yellow meet, fall in love, and decide to... *gulp*... mix!
So while it's about art, it's also about racism, and could probably be applied to many other distinctives that have become ways by which people have tried to assert superiority over others. Perhaps it's oversimplified, but for a short and sweet fable, I though it worked really well, and didn't feel heavy-handed to me.
Scrounged From: Our local library
Format: Hardcover
Author/Illustrator: Arree Chung
Pages: 40
Content Advisory: None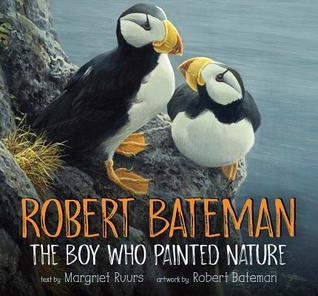 I enjoyed this book about Robert Bateman, Canadian painter, naturalist, and conservationist, even though I'd never heard of him before reading it. The best part is the artwork -- the book includes several of his paintings of animals, natural sights, and people exploring, and they're beautifully realistic. Some of them I could hardly believe weren't photographs at first glance.
The text is fairly spare and straightforward, and focuses on his observations and growth as a painter -- in many cases it simply names different things that he painted, so this book would work well for young children with short attention spans, though the artwork should appeal to all ages. At the end there's a longer biography of Bateman's life and work.
(Thanks to NetGalley for the review copy.)
Scrounged From: NetGalley
Format: Kindle
Author: Margriet Ruurs
Illustrator: Robert Bateman
Pages: 40
Content Advisory: None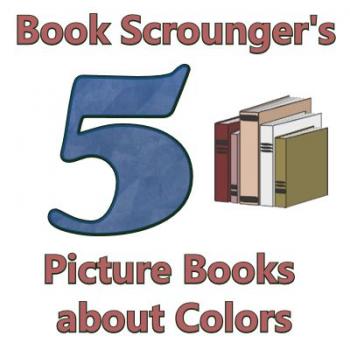 I've already made a list about books geared toward art in general, but this one is specifically about colors. Of course, there are many many picture books that introduce colors to children, some based on particular themes that may be more exciting to some children than others. These are just some of our personal favorites out of the many fun and useful books out there.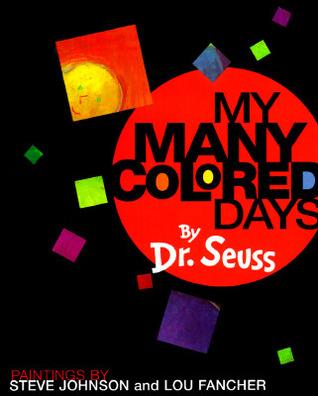 Even though I grew up with Dr. Seuss books, it wasn't until I was an adult that I realized he had produced a "colors book" as well. However, My Many Colored Days does not contain his trademark Seussical illustrations -- instead, the manuscript of this poem was illustrated by Steve Johnson and Lou Fancher, and not published until after Seuss's death. What results is a vibrant celebration of color and emotion, as each color has a particular feeling paired with it -- from happy and energetic to low and upset, the colors help to visualize an animal embodying something about each emotion. But in the end, the book emphasizes that "I'm still me" through all of it.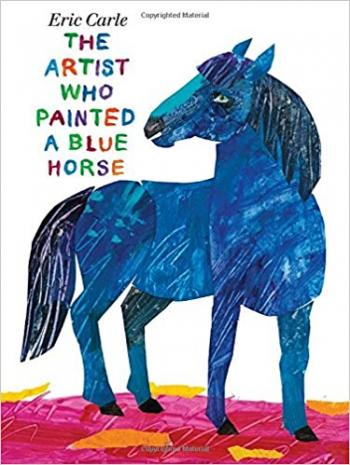 From another well-known children's book author, The Artist Who Painted a Blue Horse is Eric Carle's tribute to German painter Franz Marc. While nothing is said of Marc in the text, there is a short informational paragraph about him at the end. Carle encountered Marc's work while growing up in Germany -- Marc was one of many "degenerate" artists whose work was banned by the Nazis, and one of his more famous paintings is of a blue horse. This book includes animals drawn in all the "wrong" colors -- a purple fox, an orange elephant, etc. It is a way of encouraging children to not let conventional expectations limit their art. For another colorful book of animals illustrated by Carle (mostly conventionally), see also Brown Bear Brown Bear What Do You See?. Also, while it's not a "colors book," Carle's Animals Animals pairs his vibrant illustrations with sayings and poems about many different animals (most conventionally depicted, this time).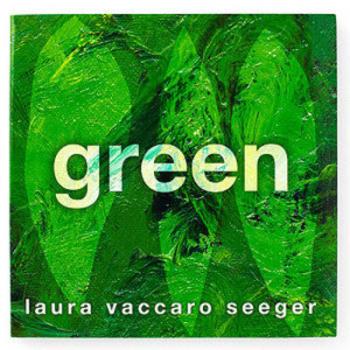 While Green is not a regular colors book that depicts every major color, it also doesn't limit itself entirely to green either. Many shades are explored here -- from jungle green to "shaded" green (trees). Also, each page includes clever cut-outs that become very different things on each side of the page. Not only that, but the paintings are lovely, full of textured detail. See my full review here.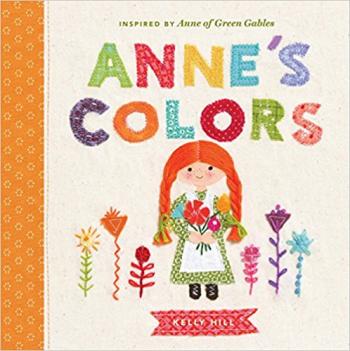 For those who are fans of L.M. Montgomery's Anne of Green Gables series, Anne's Colors is a beautiful celebration of major scenes from the first book, as a means of introducing colors. The illustrations were created with fabric and embroidery, which adds some texture and life to Anne's world. We get to see a brown dress (with puffed sleeves, of course), red cordial, blue sky, etc. See my full review here.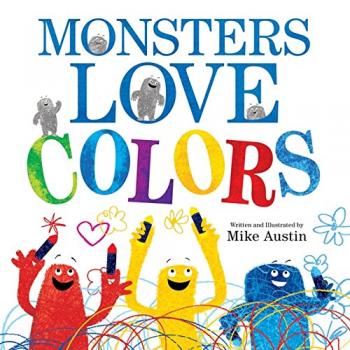 For children who enjoy monsters, Monsters Love Colors, by Mike Austin, is an exuberant (and of course colorful) celebration of colors and how fun it can be to color with them and mix them up. This book uses monsters to show how the primary colors can be mixed to create the secondary colors, and that when they're all together, they make a beautiful rainbow. For kids who don't like monsters (or just for a more subdued book with a similar premise), see Mouse Paint, which demonstrates the same mixing of colors.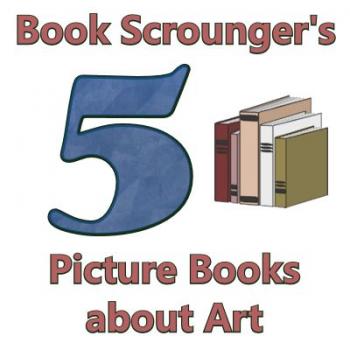 Since the artwork can make or break a picture book, they can be a great way to introduce children to artistic concepts, as well as the joy of making art in the first place. Some of these books do that, and others focus on specific artists, but all help to bring art into a child's world and encourage experimentation.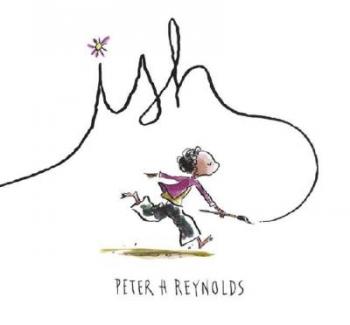 1. Ish, by Peter Reynolds, is the story of a boy named Ramon who likes to draw -- until someone laughs at his artwork, and he suddenly realizes that nothing he draws looks exactly like it's "supposed" to. This is such a good topic to cover in a children's book because many children go through a stage where they begin to realize that their way of seeing the world is changing, and many abandon art at about that time. With some help, Ramon recovers his desire to create, realizing that "ish" is a better goal than "exact." Full review here.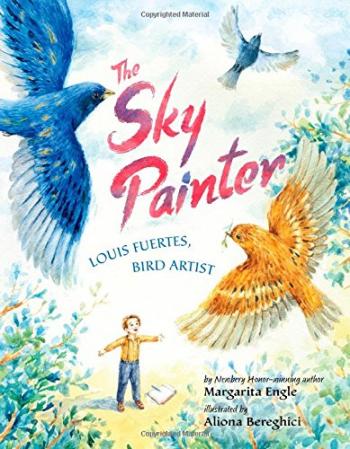 2. One of my favorite picture books in recent  years is The Sky Painter by Margarita Engle. It tells the story of Louis Fuertes, a boy who was interested in birds and art from a young age, and found a way to combine his interests in the field of bird art. Not only did he produce a lot of art and go on expeditions all over the world, but he also learned to paint quickly instead of shooting birds with a gun and posing them. Full review here.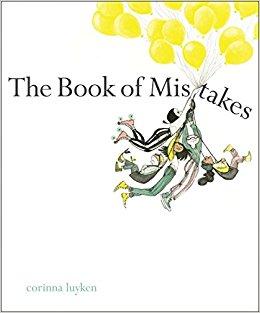 3. A unique book which actually points out some "mistakes" in the illustrations as well as the way they were dealth with, The Book of Mistakes (by Corinna Luyken) combines lovely pastels mixed with black, white, and gray to create a narrative that "zooms" out bit by bit on a bunch of interesting-looking characters in their treehouse. It really encourages us to remember that we all make mistakes, but that they can help us to grow.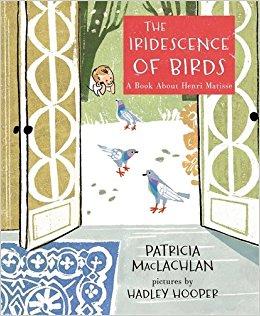 4. The Iridescence of Birds is a poetic tribute to artist Henri Matisse by Patricia MacLachlan. The artwork in this book is especially lovely and incorporates elements from some of Matisse's more iconic images. While the book doesn't share major details of Matisse's life, the vignettes are enough to give us an glimpse of some of the reasons for why he painted what he did.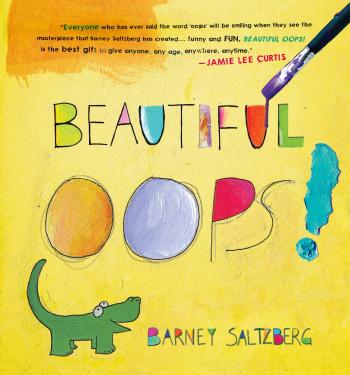 5. This is a fun one. Beautiful Oops!, by Barney Saltzberg, helps encourage kids to see their mistakes as opportunities by demonstrating it with torn paper, coffee stains, drips, smudges, and even crumpled paper. The illustrations are mixed media and very vibrant, and there are fun flaps to open to see the "before" and "after" of the possibilities. Full review here.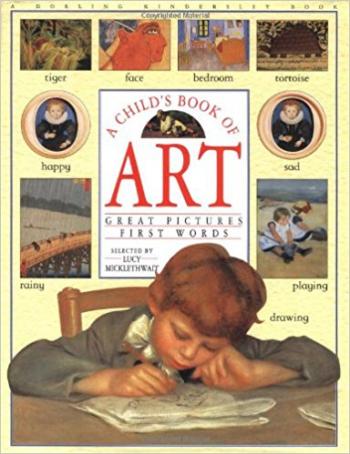 Bonus: For a fun and simple (though very tall) book to introduce children to art history, A Child's Book of Art by Lucy Micklethwait is a great choice. Paintings are organized around simple themes that would be familiar to young children: family, animals, seasons, as well as various places and means of transportation.
Older posts

Blogs on This Site

Reviews and book lists - books we love!

The site administrator fields questions from visitors.

Like us on Facebook to get updates about
new resources