Paper Craft: Cube Christmas Ornament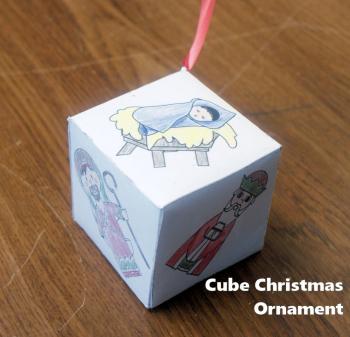 This makes a fantastic Christmas project for children. You can draw your own images on the cube, download clip art to print on the cube, or let your children draw their own pictures. We made these for friends one Christmas, and everyone in the family (except the baby) did some coloring on the ornament.
Printable Cube Ornament Template
Redline Cube Ornament Template
Instructions
If desired, search online for clipart to add to the printable template. Note that the redline template contains arrows indicating the direction the clipart should be facing. All clipart is placed diagonally on the faces.
Print it on cardstock (scale the print size for smaller or larger cubes)
Using scissors or a knife, cut along the outline of the image.
If you intend to hang the ornament using a ribbon (as in the image above), use the redline template to see an additional cut to make.
Using your knife, carefully score (but do not cut through) the remaining lines which have not yet been cut.
Fold each scored line to 90 degrees.
Attach the string or ribbon diagonally in the corner with the red circle (on the redline template). If using ribbon, half the width of the ribbon can be tucked under the cut made previously. This allows the ornament to hang vertically.
Using your craft adhesive, glue the flaps inside. Try doing three or four flaps in one batch, and then do the remaining flaps after the first set of flaps has set.
Optional: color your clipart images, or draw images and color them.
Understanding Coronavirus Spread
A Question and Answer session with Professor Puzzler about the math behind infection spread.
Blogs on This Site

Reviews and book lists - books we love!

The site administrator fields questions from visitors.

Like us on Facebook to get updates about
new resources