Flight of the Roaster Chicken
Pro Problems
>
Physics
>
Motion and Forces
>
Projectile Motion
Flight of the Roaster Chicken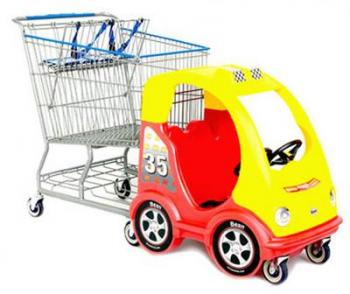 Sometimes Physics problems happen in the strangest of circumstances. This morning my wife and children went grocery shopping. One child sat in the seat in the back of the grocery cart, and the other sat in the cute little "toy car" at the front of the cart. Today a roaster chicken was being purchased. In the process of putting the bird in the cart, my wife fumbled it, and then fumbled it again, and after bouncing from one hand to the other, it launched outward, and went through the window of the toy car, to land in the passenger seat next to my son.
We estimated the following information:
After the fowl was fumbled, it flew out of my wife's hand in a horizontal manner.
The poor creature traveled a horizontal distance of about 2 feet before joining my son in the cart.
The vertical distance between the bird bobble and its berth was about 3 feet.
Based on this information, how fast was the bird flying when it hit the seat? Give your answer in miles per hour.
Presentation mode
Problem by Mr. Twitchell
Solution
In order to make it feasible for teachers to use these problems in their classwork, no solutions are publicly visible, so students cannot simply look up the answers. If you would like to view the solutions to these problems, you must have a
Virtual Classroom subscription
.

Assign this problem
Click here to assign this problem to your students.

Understanding Coronavirus Spread
A Question and Answer session with Professor Puzzler about the math behind infection spread.
Blogs on This Site

Reviews and book lists - books we love!

The site administrator fields questions from visitors.

Like us on Facebook to get updates about
new resources