scrounge: /skrounj/ informal verb: to actively seek [books] from any available source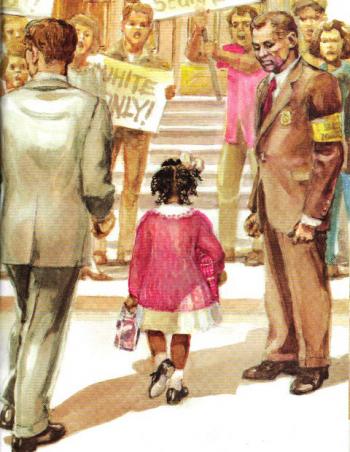 Book Scrounger's note: The following is a guest review by Doug, a.k.a. Professor Puzzler.
The Story of Ruby Bridges is a children's book which tells the story of the desegregation of William Frantz Elementary School in New Orleans. The story focuses primarily on Ruby's bravery, her faith, and her desire to find forgiveness for the mobs of angry people who wanted to stop her from attending the school.
Speaking of the mobs, author Robert Coles does an excellent job of describing the troubles that Ruby faced, at an age-appropriate level for a children's book. He speaks of angry mobs, and shouting, and protest signs, and of people wanting to hurt Ruby, but avoids discussing any of the specifics of the threats she faced. I liked this choice on the author's part, as it gives parents the freedom to discuss the more vicious aspects of the story when they feel it is most appropriate for their own children.
Robert Coles was probably best suited of anyone to write this book, as he was the child psychiatrist who met weekly with Ruby during her first year at Frantz Elementary. His work with Ruby led him, eventually, to write a book titled Children of Crisis: A Study of Courage and Fear, which he eventually developed into a series of books that won him the Pulitzer Prize in 1973.
Of course, any children's book is dependent not just on the author, but also on the illustrator; an illustrator can make or break a book. In this case, George Ford is an integral part of making this book a success. The illustrations are beautiful, with great use of light, shadow and coloration to draw attention to the focus of the book -- Ruby herself. Whether she is sitting alone in a classroom, with her family at church, or dwarfed by an angry mob and the marshals protecting her, it is always Ruby that captures your eye. 
Scrounged From: Our local library
Format: Hardcover
Author: Robert Coles
Illustrator: George Ford
Pages: 32
Content Advisory: Thematic elements, as described above.

Blogs on This Site

Reviews and book lists - books we love!

The site administrator fields questions from visitors.

Like us on Facebook to get updates about
new resources