scrounge: /skrounj/ informal verb: to actively seek [books] from any available source
Category results for 'Black-history'.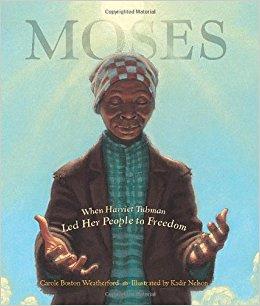 Moses: When Harriet Tubman Led Her People to Freedom is a poetic tribute to the most famous conductor on the Underground Railroad, a woman who endured the brutality of slavery and knew she had to choose between liberty and death, and so she took her freedom on her own before helping hundreds of others to do the same. This book primarily focuses on her initial escape, written in a narrative that includes an ongoing dialog between her and God, as she relies on him every step of the way.
I appreciated this perspective on her faith, even though the text does not cover many details of her life. There is an author's note at the end that gives more information about Tubman's life in slavery and her work on the Underground Railroad after her escape. 
Once again, Kadir Nelson's illustrations convey so much depth of spirit here -- Harriet Tubman's courage, fear, and faith are evident in her face as well as in the text.
Scrounged From: Our local library
Format: Hardcover
Author: Carole Boston Weatherford
Illustrator: Kadir Nelson
Pages: 48
Content Advisory: The text doesn't really get into Tubman's treatment while she was enslaved, but her escape is perilous at times.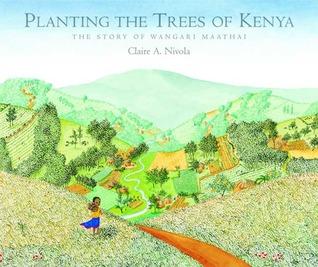 Though I just featured another picture book about Wangari Maathai (Wangari's Trees of Peace) I found Planting the Trees of Kenya to be just as wonderful at telling Wangari's story, and I also thought it was more detailed not only in the illustrations, but also in its descriptions of the before-and-after pictures of the Kenyan landscape, as well as the practical, daily benefits that a healthy amount of trees can bring to the average worker. 
So not only does this story briefly cover Wangari's early life and education, but it also paints a vivid picture of her vision for re-planting the destroyed trees of Kenya, empowering the women (and men, eventually) around her to take personal responsibility for their environment, and the difference that trees can make to an environment.
This is a great story of a remarkable woman, but also a book that can help to inspire us all to take a greater sense of responsibility for the care of the land that we all live on.
Scrounged From: Our local library
Format: Hardcover
Author/Illustrator: Claire A. Nivola
Pages: 32
Content Advisory: None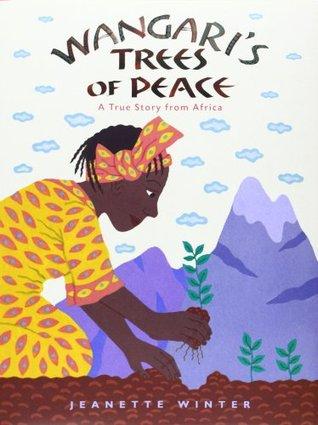 Wangari's Trees of Peace is the inspiring true story of a woman who faced the destruction of her country's natural environment and decided to do something about it herself, and in the process empowered many of her fellow Kenyans to care for their own land.
Wangari faced many obstacles, and her work was slow going at times, but after decades of work, the movement she started has re-planted millions of trees and helped to enrich the environment and people's lives. Her story is definitely a valuable one to introduce children to -- one caveat is that one of the obstacles depicted in this particular book is Wangari being assaulted by a law enforcement officer, which parents/teachers might like to be aware of before reading. Otherwise, the text and illustrations are quite accessible to young children.
Wangari was awarded the Nobel Peace Prize in 2004 for her work in sustainable development, human rights, and peace.
Scrounged From: Our local library
Format: Hardcover
Author/Illustrator: Jeanette Winter
Pages: 32
Content Advisory: One scene shows Wangari being hit by a law enforcement officer, which may be disturbing for some children.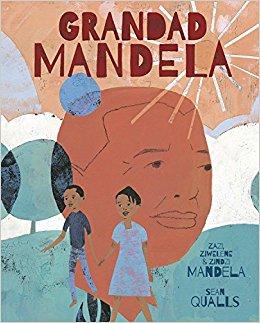 Grandad Mandela serves as a wonderful introduction to the life and legacy of Nelson Mandela, who brought an end to racial apartheid while president of South Africa. 
The book is written as a conversation between the book's author, Zindzi Mandela, who is Nelson Mandela's daughter, and her two grandchildren, Zazi and Ziwelene. While the conversation primarily serves to structure the narrative, it also brings a sense of familial connection and pride to Mandela's story.
In order to adequately cover the major events of Mandela's life, the story also explains important concepts from that time and place that might not make as much sense to children these days, such as apartheid, justice (especially as it related to apartheid), and the African principle of "Ubuntu" -- treating others as we would want to be treated, and in Mandela's case, forgiving his enemies in order to work with them for the betterment of the entire country.
In addition to the thorough (without being too wordy) and important story, the illustrations here are wonderful -- they capture the view of Mandela as a single, important person, but also his fight for justice and the way it encompassed an entire country -- and the colors are wonderful too.
This is a great way for children to learn about an important historical figure, and for those of us who are older, it can serve as a jumping-off point for further reading.
(Thanks to NetGalley for the review copy.)
Scrounged From: NetGalley
Format: Kindle
Author: Ambassador Zindzi Mandela, Zazi and Ziwelene Mandela
Illustrator: Sean Qualls
Pages: 40
Content Advisory: Very little is actually said of violence ("fight" is generally used as a more theoretical term, implying the general fight for justice), but there is one scene that depicts two white policeman with sticks raised over two black people who are on the ground -- no blood, but it gives a visual of the racial dominance that was upheld under apartheid. There is mention of Mandela's long prison term, and how difficult it was to keep his spirits up.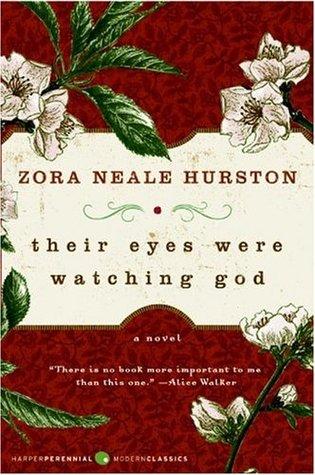 I'm a bit surprised that I managed to obtain an English degree without being assigned to read Their Eyes Were Watching God, because I can see why it's such a major American novel.
In the afterword written by Henry Louis Gates, Jr., he mentions that Hurston saw her first novel (written a few years before this one) as "a manifesto against the 'arrogance' of whites assuming that 'black lives are only defensive reactions to white actions.'" This book also seems to avoid the reactionary point of view, and tries to simply capture black culture and people as they were, without requiring a "contrast" of white characters, unlike some of the other novels by black authors from the same period (a few of which I actually was assigned in college).
Hurston used vernacular speech in the dialog here, which for me meant it took a little longer to read, but sometimes that's a good thing. I loved the flow of the writing, and there were a few moments of humor as well. Toward the end of the story, the main characters are involved in a hurricane, which was a bit of deja vu to read during hurricane season last year when Florida had just been hit by Irma -- but this is one section where the descriptions are the best, and contains the title line. 

To be honest, I didn't find Janie Crawford that sympathetic of a character in the beginning of the story, although the first page or so of the novel is a gem all on its own. But as the chapters passed and Janie and the scenery around her became more developed, I appreciated more the glimpse into this particular time and place, the way the story pulled me in, and the lyrical (as it has oft been described) style that is employed in so much of the narrative. The ending of the story navigated so well between heartbreak and determination, and kept me up past my bedtime (so in other words, I expected to like it a little but ended up liking it a lot). 
Scrounged From: Our local flea market
Format: Paperback
Author: Zora Neale Hurston
Pages: 237
Content Advisory: A few swear words, a violent scene at the end (involving a gun) as well as a few instances and mentions of domestic violence, and a couple non-explicit sexual scenes.
Older posts

Blogs on This Site

Reviews and book lists - books we love!

The site administrator fields questions from visitors.

Like us on Facebook to get updates about
new resources