scrounge: /skrounj/ informal verb: to actively seek [books] from any available source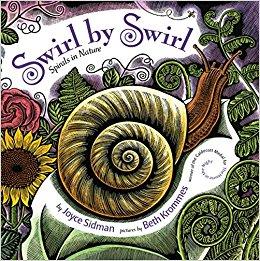 Swirl by Swirl uses bold, detailed illustrations and simple, poetic text to show us a variety of swirls and spirals in nature, and some of the places they are found. From ferns and flower petals to octopus arms and waves, this pattern shows up over and over again, and different descriptive and action words accompany it on each page.
This would make a great introduction (or follow-up) to Blockhead: The Life of Fibonacci (see our review here), which covers this topic with more of a focus on the math, as well as on Fibonacci himself.
This book does bring up Fibonacci in the informational page at the end, but overall it focuses more on the beauty, ubiquity, and different forms of the spiral pattern rather than the math behind it (not to imply that these things are mutually exclusive).
Scrounged From: Our local library
Format: Hardcover
Author: Joyce Sidman
Illustrator: Beth Krommes
Pages: 40
Content Advisory: None
Blogs on This Site

Reviews and book lists - books we love!

The site administrator fields questions from visitors.

Like us on Facebook to get updates about
new resources