scrounge: /skrounj/ informal verb: to actively seek [books] from any available source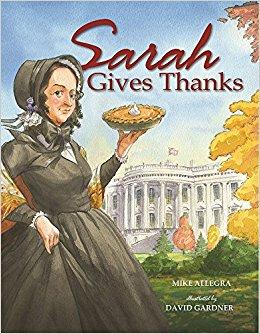 While the name "Sarah Josepha Hale" did ring a bell to me when I picked up Sarah Gives Thanks: How Thanksgiving Became a National Holiday, I couldn't have told you much of anything about her. After reading this book, I have a newfound appreciation for this intelligent, enterprising woman and her contributions to our country's development -- beyond just Thanksgiving.
Oftentimes our "first Thanksgiving" stories revolve around the narrative of that first harvest festival celebrated by the Jamestown settlers and Wampanoag tribe. But this biography of Hale focuses on her quest to have Thanksgiving declared a national holiday. While it was a tradition in the early 1800s, it was only celebrated in some regions, and even then on different days. Sarah Hale wrote to every president for decades until finally Abraham Lincoln agreed with her in the midst of the Civil War.
As important as this aspect of the story is, I was even more intrigued by Hale's determination to attain an education (in a round-about way) in the days when women did not go to college. I was also inspired by her marriage and subsequent industrious widowhood, as well as her obvious ability to bring people together through reading, writing, and publishing (which included encouraging women to be more concerned about their minds than their wardrobes). 
Scrounged From: Our local library
Format: Hardcover
Author: Mike Allegra
Illustrator: David Gardner
Pages: 32
Content Advisory: None

Blogs on This Site

Reviews and book lists - books we love!

The site administrator fields questions from visitors.

Like us on Facebook to get updates about
new resources