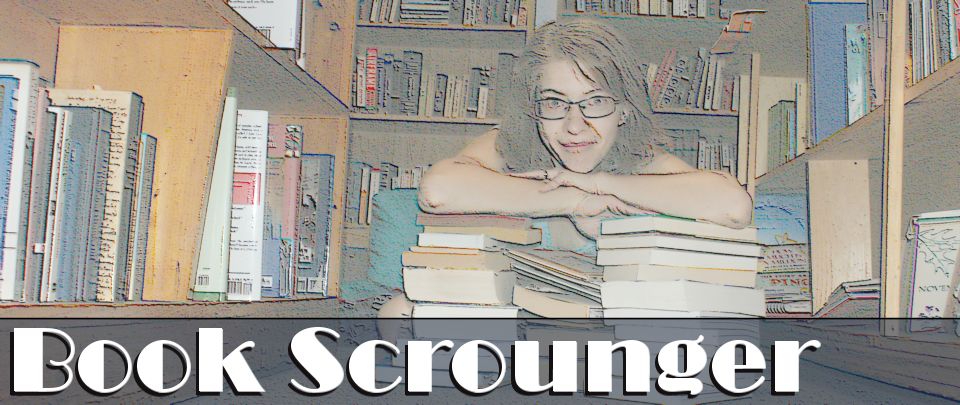 scrounge: /skrounj/ informal verb: to actively seek [books] from any available source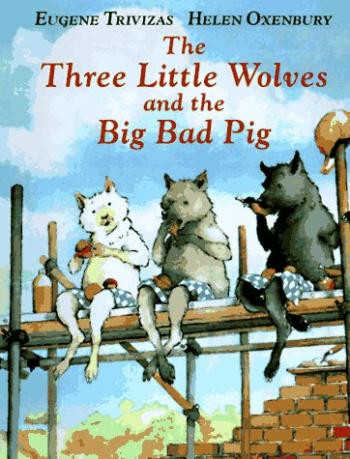 "Revised" fairy/nursery tales are all over the place these days. We grew up hearing these stories told over and over again, and now we've apparently decided we need to either modernize substantially, and/or pull a role reversal to freshen things up a bit.
The results can be hit or miss, but one such tale I've enjoyed lately is The Three Little Wolves and the Big Bad Pig, which was originally published in 1993 (even before Ella Enchanted!). Of course, the title is funnier if a child has read the original Three Little Pigs first.
This story begins as expected, with three wolf siblings going off into the world to seek their fortunes, and being warned to beware of the big bad pig. The building materials get a bit of an update though: brick is only the beginning. We also see concrete, armor plates, and even a video entrance phone. This big bad pig seems to have shallower lungs than the wolf of lore, for he has to resort to other efforts to fullly knock down houses, such as a sledgehammer and even dynamite. 
Despite the raised stakes in the building battle, these illustrations are gentle and not at all over-the-top. Helen Oxenbury illustrated a series of board books for babies that I grew up with, so it's nice to see her work again. 
I won't spoil the ending, but in keeping with the rest of this retelling, it's quite opposite from the original, which I think in this case is a satisfying thing.
Scrounged From: My husband's book stash
Format: Hardcover
Author: Eugene Trivizas
Illustrator: Helen Oxenbury
Pages: 32
Content Advisory: None
Featured Games on This Site
Match color, font, and letter in this strategy game
Trap all the dots in this problem-solving puzzle
Blogs on This Site

Reviews and book lists - books we love!

The site administrator fields questions from visitors.

Like us on Facebook to get updates about
new resources