scrounge: /skrounj/ informal verb: to actively seek [books] from any available source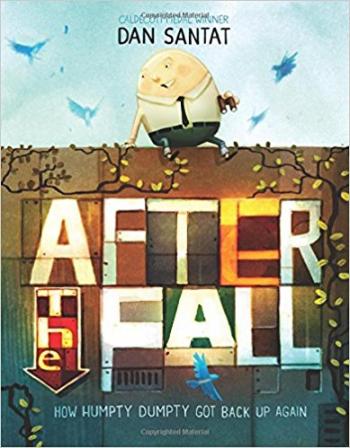 It's not very often that I find myself tearing up at the end of a picture book -- the ending in this case was simple enough that I almost didn't get it at first, but once it sunk in I couldn't help but think how brilliant and well done this was.
After the Fall: How Humpty Dumpty Got Back Up Again is about, as the title implies, Humpty Dumpty. It picks up where the nursery rhyme left off -- with an egg-like individual who, while the King's men managed to put most of him together (at King's County Hospital, of course), is realizing that there are parts of him that are still very much not back together. Humpty develops a fear of heights that keeps him from enjoying many of the things he likes, such as bird-watching. 
But after overcoming a few setbacks, Humpty finally gains enough courage to attempt something he wasn't sure he'd ever do again: climbing that wall. 
The thing is, this book could have been done so badly. How many "updated" nursery or fairy tales have come and gone that have done nothing but leave a bad taste in our mouths? How many sappy "self-esteem" or "inspirational" picture books have we sat through that, while well intentioned, gave us little more than a contrived, feel-good sort of message? Somehow those pitfalls were avoided here, at least in my opinion (and it seems many others too). Humpty soars. 
Scrounged From: Our local library
Format: Hardcover
Author/illustrator: Dan Santat
Pages: 40
Content Advisory: None

Blogs on This Site

Reviews and book lists - books we love!

The site administrator fields questions from visitors.

Like us on Facebook to get updates about
new resources