scrounge: /skrounj/ informal verb: to actively seek [books] from any available source
Category results for 'best-of-2017'.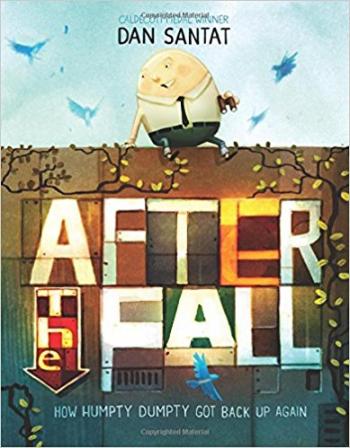 It's not very often that I find myself tearing up at the end of a picture book -- the ending in this case was simple enough that I almost didn't get it at first, but once it sunk in I couldn't help but think how brilliant and well done this was.
After the Fall: How Humpty Dumpty Got Back Up Again is about, as the title implies, Humpty Dumpty. It picks up where the nursery rhyme left off -- with an egg-like individual who, while the King's men managed to put most of him together (at King's County Hospital, of course), is realizing that there are parts of him that are still very much not back together. Humpty develops a fear of heights that keeps him from enjoying many of the things he likes, such as bird-watching. 
But after overcoming a few setbacks, Humpty finally gains enough courage to attempt something he wasn't sure he'd ever do again: climbing that wall. 
The thing is, this book could have been done so badly. How many "updated" nursery or fairy tales have come and gone that have done nothing but leave a bad taste in our mouths? How many sappy "self-esteem" or "inspirational" picture books have we sat through that, while well intentioned, gave us little more than a contrived, feel-good sort of message? Somehow those pitfalls were avoided here, at least in my opinion (and it seems many others too). Humpty soars. 
Scrounged From: Our local library
Format: Hardcover
Author/illustrator: Dan Santat
Pages: 40
Content Advisory: None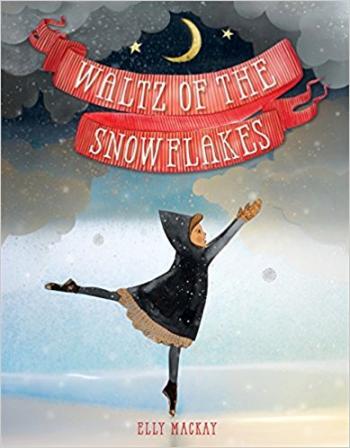 Recently I was introduced to Elly MacKay's illustrations via Red Sky at Night (review here), and was captivated by her unique images, full of texture and light. So I was pretty excited to see that she has a Christmas book available too.
Waltz of the Snowflakes is the wordless story of a girl whose grandmother invites her out to see a ballet. The girl is not all that inerested -- she has to wear a fancy dress and go out in the rain, and doesn't seem to be enjoying herself. But as the Nutcracker story begins, she becomes more and more engaged and awed by the beautiful dances and scenes unfolding on the stage -- she even catches a snowflake during that lovely waltz (my personal favorite of all the Nutcracker pieces).
By the end of the story, she is waltzing her way home -- quite a contrast to the beginning! For those of us who have loved The Nutcracker from a young age, this story evokes all kinds of nostalgia, and celebrates a beautiful, iconic Christmas tradition.
Format: Hardcover
Author/illustrator: Elly MacKay
Pages: 32
Content Advisory: None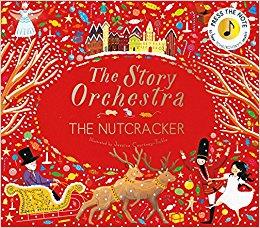 Our family has very much enjoyed the first Story Orchestra book: Four Seasons in One Day, which features music from Vivaldi's The Four Seasons (see my review here).
So I was pretty excited when I saw that there would be another entry in this series: The Nutcracker! I was not disappointed. Like the first book, it features a sturdy cover with bright, textured illustrations, and a back cover that plays quality snippets of music when you press the musical note that corresponds to the correct portion of the cover. In the beginning this can be a bit difficult since you are pressing through all the pages, but it gets easier as it goes. Like the first book, I plan to keep this one up high so my young kids can learn how to treat it properly before they play with it unsupervised.
The story provides busy, colorful illustrations and a narrative that follows the Nutcracker ballet -- from Clara eagerly anticipating her Uncle Drosselmeyer's arrival, to her throwing her slipper at the mouse king to vanquish him (I was glad that part was included!) and being whisked away to the Land of Sweets. Of course, a book can't fully do the ballet justice, but by including small parts of the music, it is able to add to the summary of the text to make it a bit more magical. 
The last page includes a brief bio of Peter Tchaikovsky (whose illustrated form looks suspiciously like Uncle Drosselmeyer -- or vice versa), as well as some additional information about each of the ten segments of music that are featured. This is definitely a holiday treasure, and can help young children appreciate the ballet even before they're old enough to sit through the whole thing.
Scrounged From: Amazon
Format: Hardcover
Author/illustrator: Jessica Courtney-Tickle
Pages: 24
Content Advisory: None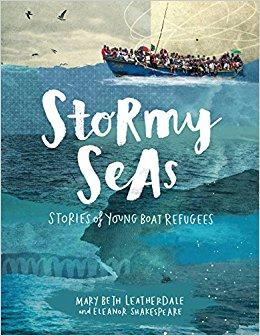 Stormy Seas is a timely look at young refugees of the past, especially considering the current refugee crisis in which more than five million people have fled Syria, half of whom are children. This book helps to show us that refugees are not new at all -- the young people featured in this book fled from Germany, Cuba, Vietnam, Ivory Coast, and Afghanistan, all due to violence, government oppression, or other threat of persecution.
Each of the five sections shares the story of one person's flight, the reasons for leaving, and a first-person account of their time on the boat. We are then given a summary of what has happened to them since these events. More than one of these desperate refugees were turned away from the country they had initially been trying to reach.
This book is well designed, with many photos and quotes set off from the main text, as well as maps and other illustrations to create visual interest. But what interested me the most were the stories of these refugees, who are humanized in these pages rather than appearing as statistics. 
In the introduction, the author tells us:
     "If you're reading this, you--like me--have probably won the lottery. Not the giant-check, instant-millionaire kind of lottery. The other lottery win--the really valuable one. That random, lucky break that means you were born in or immigrated to a relatively peaceful and prosperous place in the world."
It's not always something we're forced to think about, but this book helps young adults appreciate their situation by sharing the stories of others, and hopefully encourages empathy in our response toward those who simply want to survive.
(Thanks to NetGalley for the review copy.)
Scrounged From: NetGalley
Format: Kindle
Author: Mary Beth Leatherdale
Illustrator: Eleanor Shakespeare
Pages: 64
Content Advisory: Some depictions of violence, and of squalid conditions on the boats.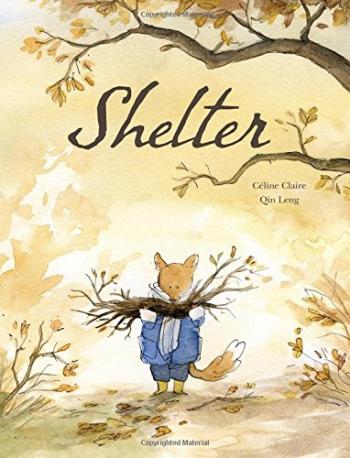 Shelter is a gentle fable (originally published in French) that contains beautiful and absorbing artwork, full of earth tones and winter blues. In a forest neighborhood, a storm is coming. The animals get ready, but when a pair of strangers show up asking for shelter from the cold, they receive very mixed reactions -- but as the storm worsens, one family finds themselves needing shelter too. 
Different people will probably take different messages from this story (some reviewers see a possible "climate change" statement here since the visitors are polar bears), but for me the takeaway is that the best way to receive is through giving, and that compassion can breed more compassion. 
I thought the story was well told. Sometimes, the more important the message, the easier it can be for storytellers to communicate in heavy-handed ways, but I believe that was mostly avoided here, because the story can stand on its own. I assume the heart of this story is related to the current global refugee crisis, and if that's the case then this is a timely story indeed.
(Thanks to NetGalley for the review copy.)
Scrounged From: NetGalley
Format: Kindle
Author: Celine Claire
Illustrator: Qin Leng
Pages: 42
Content Advisory: None
Older posts

Blogs on This Site

Reviews and book lists - books we love!

The site administrator fields questions from visitors.

Like us on Facebook to get updates about
new resources