scrounge: /skrounj/ informal verb: to actively seek [books] from any available source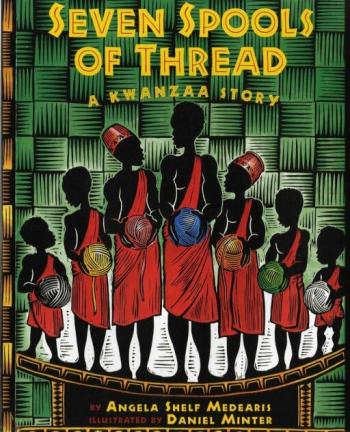 Christmas may be over, but Kwanzaa begins today, December 26 (and runs through January 1), so today's post will feature a children's book that tells a Kwanzaa story. Seven Spools of Thread begins with a brief introduction to Kwanzaa as well as to the seven principles it incorporates. 
The story is about a father in Ghana whose seven sons argue with each other from sun-up to sun-down. When their father dies, he leaves them seven spools of thread, and tells them that they will not be allowed to inherit his property unless they can turn the thread to gold by the time the moon rises that night. The brothers are stunned and realize they will have to learn to work together.
I thought the story did a good job of communicating cooperation especially, and how its benefits can be far reaching. The story feels very much like a folktale, and the illustrations are bold and vibrant. The note at the beginning of the book says that all seven principles of Kwanzaa (called the "Nguzo Saba") are incorporated into the story in some way, and so it is an interesting challenge for the reader to try and identify the place(s) where each appears. This is a good example of storytelling that is simple but also thoughtful -- introducing some moral ideas without hitting the reader over the head with them.
At the end of the book, a tutorial on weaving is included.
Scrounged From: Our local library
Format: Hardcover
Author: Angela Shelf Medearis
Illustrator: Daniel Minter
Pages: 40
Content Advisory: None

Blogs on This Site

Reviews and book lists - books we love!

The site administrator fields questions from visitors.

Like us on Facebook to get updates about
new resources