scrounge: /skrounj/ informal verb: to actively seek [books] from any available source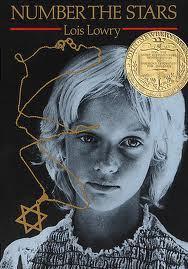 Number the Stars is a book I know I read in middle school or high school, but since I couldn't remember much about it I decided to read it again, and I'm glad I did -- it's not a long story, but manages to portray a concise and moving picture of a family living in Denmark during the Nazis' "relocation" of the Jews. They may not be part of a resistance movement, but when their friends' lives are in danger, they know they must act to help them. The climax involves ten-year-old Annemarie who is faced with a task of delivering a necessary item to people who are trying to flee.
I was especially interested in the Afterword at the end which confirms that, while the families portrayed in this story are fictional, it is closely based on many events that actually happened (broadly) and inspired by brave people who did actually risk their lives (and some died) to save others. Definitely recommended.
Scrounged From: Our local flea market
Format: Paperback
Author: Lois Lowry
Pages: 137
Content Advisory: Murders of a sister and others are mentioned, and peril and suspense while Jews are smuggled away, people encounter soldiers, etc.
Blogs on This Site

Reviews and book lists - books we love!

The site administrator fields questions from visitors.

Like us on Facebook to get updates about
new resources