scrounge: /skrounj/ informal verb: to actively seek [books] from any available source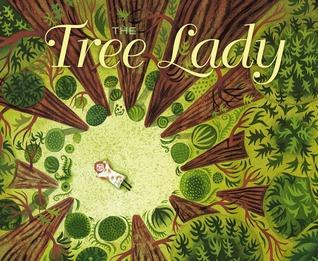 Continuing with our "tree theme" of late, as well as books that highlight people who made a difference in their communities, The Tree Lady is another inspiring story of a woman who brought trees to the San Diego area more than a hundred years ago. Not only did Kate Sessions become the first woman to obtain a science degree from the University of California, but she then made "tree hunting" and planting her career. She sought out the varieties of trees that would be just right for the sunny, dry climate of Southern California, and went to work making the place beautiful.
This picture book tells her story from her tree-loving childhood to her education and finally her determination to try and find a way where others may not have tried. The affirming repetition of "But Kate did" throughout the story helps to emphasize this sense of perseverence, and the story concludes with some information about the way her legacy still impacts the area she called home.
Scrounged From: Our local library
Format: Hardcover
Author: H. Joseph Hopkins
Illustrator: Jill McElmurry
Pages: 32
Content Advisory: None

Blogs on This Site

Reviews and book lists - books we love!

The site administrator fields questions from visitors.

Like us on Facebook to get updates about
new resources