scrounge: /skrounj/ informal verb: to actively seek [books] from any available source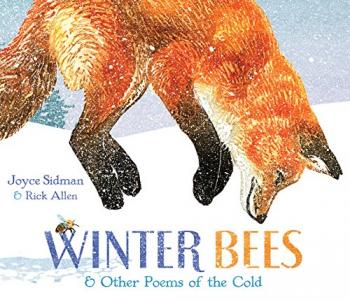 Winter Bees is a wonderful picture book of Joyce Sidman's poetry, especially fitting for those who live in a cold climate like we do. Have you ever wondered where bees go in the winter? Or voles, or beavers? This book contains a double-page spread on each featured piece of nature (mostly animals), containing a poem and then a few paragraphs of information about how the animal gets through winter, which helps to fill out the information in the poem.
The poetry here is lovely, and full of clever descriptive phrases. Most poems are of moderate length, managing to communicate a clear picture of winter survival without becoming repetitive or overly wordy.
Bees are "an ancient tribe, a hardy scrum... Together, we boil, we teem, we hum."
Snoflakes are "a lattice of stars spinning silently..."
A raven is a "Squawker, Croaker, Alarm-on-the-wind."
The poem about beavers is written as a pantoum, a poetry form that I don't remember encountering before, featuring some neat repetition of lines.
The illustrations here are amazing -- colorful, full of texture and life. I especially love how a long picture of a branch is drawn as moving from autumn to winter at the beginning of the book, and then again at the end it is shown morphing from winter into spring. 
Scrounged From: Our local library
Format: Hardcover
Author: Joyce Sidman
Illustrator: Rick Allen
Pages: 32
Content Advisory: None
Blogs on This Site

Reviews and book lists - books we love!

The site administrator fields questions from visitors.

Like us on Facebook to get updates about
new resources