scrounge: /skrounj/ informal verb: to actively seek [books] from any available source
Category results for 'poetry'.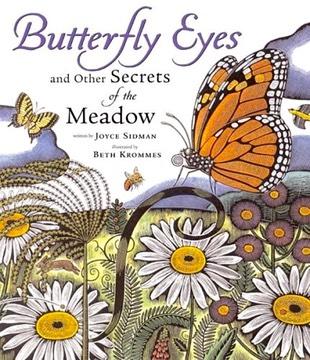 We enjoyed Joyce Sidman's nature poetry in Winter Bees (review here), and were glad to find another collection with a spring theme in Butterfly Eyes and Other Secrets of the Meadow, which we read to finish out the school year this year.
These poems also work as riddles. Each page contains two poems about different aspects of nature in the meadow -- sometimes rodents or bugs, but other times nonliving things like sun and rain. The two answers to the riddle are connected somehow (and described in prose on the page after each riddle), sometimes in more obvious ways than others (butterflies and milkweed, for example), but overall this book helps to show the interconnectedness of all parts of nature when they inhabit the same environment.
The illustrator here is the same as in Swirl by Swirl (review here), but I think the colors are lighter and brigher, and the contrast of the dark lines makes them stand out all the more.
A lovely investigation into nature in spring!
Scrounged From: A used book sale
Format: Hardcover
Author: Joyce Sidman
Illustrator: Beth Krommes
Pages: 48
Content Advisory: None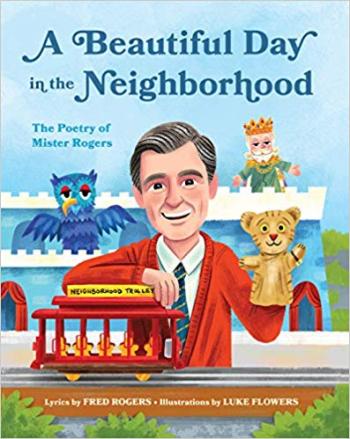 I'm so glad I grew up watching Mister Rogers' Neighborhood on TV. I have good memories of the characters and the Neighborhood of Make-Believe, especially the Bubble Land and Josephine the Short-Necked Giraffe operas. But the show wouldn't have been the same without Fred Rogers himself, something I was reminded of again while watching the excellent documentary Won't You Be My Neighbor?.
So I was glad to have a chance to read A Beautiful Day in the Neighborhood: The Poetry of Mister Rogers. There were a few poems in this collection that I remembered as songs from the TV show, enough to sing them instead of read ("You've Got to Do It"), but I'm sure there are others that I simply don't remember the tune for, so most of these poems were new to me. Many of them are affirmations of the dignity, curiosity, and value of all human beings, especially children, as well as the things that make each of us unique. They also manage to use words and ideas that are on the level of young children without sounding babyish or pandering.
In spite of the general attitude of positivity, Mister Rogers was also not afraid to explore fears and anxieties that children might have, most notably "Sometimes I Wonder if I'm a Mistake." The ability to validate negative feelings sets this apart from a lot of sappy, feel-good songs and poetry written for children. 
(Thanks to NetGalley for the review copy.)
Scrounged From: NetGalley
Format: Kindle
Author: Fred Rogers
Pages: 128
Content Advisory: None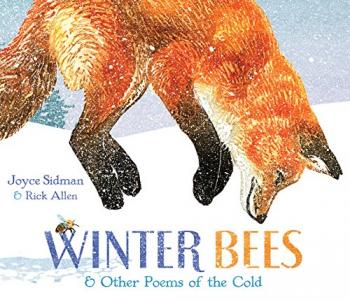 Winter Bees is a wonderful picture book of Joyce Sidman's poetry, especially fitting for those who live in a cold climate like we do. Have you ever wondered where bees go in the winter? Or voles, or beavers? This book contains a double-page spread on each featured piece of nature (mostly animals), containing a poem and then a few paragraphs of information about how the animal gets through winter, which helps to fill out the information in the poem.
The poetry here is lovely, and full of clever descriptive phrases. Most poems are of moderate length, managing to communicate a clear picture of winter survival without becoming repetitive or overly wordy.
Bees are "an ancient tribe, a hardy scrum... Together, we boil, we teem, we hum."
Snoflakes are "a lattice of stars spinning silently..."
A raven is a "Squawker, Croaker, Alarm-on-the-wind."
The poem about beavers is written as a pantoum, a poetry form that I don't remember encountering before, featuring some neat repetition of lines.
The illustrations here are amazing -- colorful, full of texture and life. I especially love how a long picture of a branch is drawn as moving from autumn to winter at the beginning of the book, and then again at the end it is shown morphing from winter into spring. 
Scrounged From: Our local library
Format: Hardcover
Author: Joyce Sidman
Illustrator: Rick Allen
Pages: 32
Content Advisory: None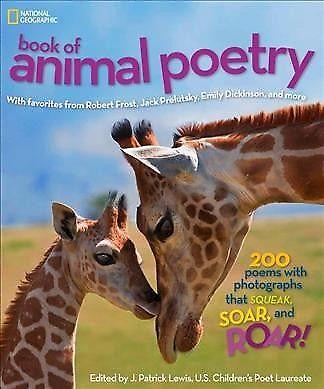 National Geographic Book of Animal Poetry is a large keepsake book full of gorgeous animal photography, and includes poems about animals from many well-known poets such as Robert Frost, Ogden Nash, Hilaire Belloc, Mary Ann Hoberman, and many more.
I really had no idea there were so many child-friendly poems about so many different kinds of animals. The book is organized into sections which start off with some well-known animals such as "the big ones" and "the winged ones" but goes on to include categories like "the strange ones" and "the noisy ones." 
We're reading through this book this year and my kids and I are enjoying it. Some poems are funny, most are short, most are also straightforward, though some are more abstract, but the photography helps anchor the subject matter. This would be a great book for any home with children -- but also for adults who love animals and poetry too!
Scrounged From: Amazon
Format: Hardcover
Author: Various -- edited by J. Patrick Lewis
Pages: 192
Content Advisory: None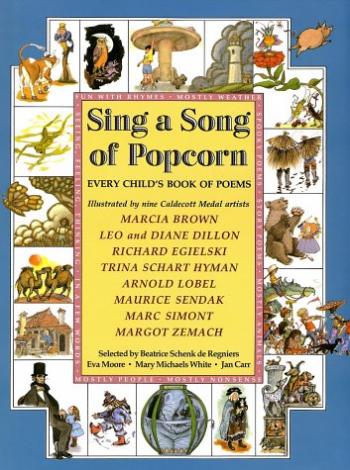 When I was approaching adulthood, there were times when I really didn't care that much for poetry. I felt like I didn't "get" many adult poems, and didn't really seek out reading them. I developed more appreciation for poetry in college, but this volume of poetry has helped remind me that I also appreciated poetry at a younger age.
Sing a Song of Popcorn was published when I was a toddler, and is a collection of poetry for children in which each section is illustrated by a different illustrator, including such well-known names as Arnold Lobel, Maurice Sendak, and Marc Simont. Each section includes a different topic of poetry, such as weather, animals, people, story poems, and more. As a child, I think the "Mostly Nonsense" section was my favorite, as it featured favorites such as "Eletelephony" by Laura E. Richards (I grew up a few miles from the elementary school named after her) and some limericks. I like how the different illustrators all have their own distinctive style. 
Other authors include: A. A. Milne, Robert Louis Stevenson, Robert Frost (I originally memorized "Stopping by Woods on a Snowy Evening" from this book), Ogden Nash, Edna St. Vincent Millay, and many more.
I've been glad to see my kids enjoying this book and picking out poems for me to read to them. Like me at the time, they are more drawn to the silly ones and not as much to some of the more abstract ones at the end (the "Seeing, Feeling, Thinking" section) -- but I enjoy those more now, so I think there's something here for everyone.
Scrounged From: A family gift as a child, and in a box of used books from my sister-in-law as an adult
Format: Hardcover
Author/Illustrator: Various
Pages: 160
Content Advisory: There is a section of "spooky" poems, some of which involve witches and ghosts, and the poem "Isabel" involves the protagonist cutting a giant's head off.
Older posts
Blogs on This Site

Reviews and book lists - books we love!

The site administrator fields questions from visitors.

Like us on Facebook to get updates about
new resources