scrounge: /skrounj/ informal verb: to actively seek [books] from any available source
Category results for 'animals-not-anthropomorphized'.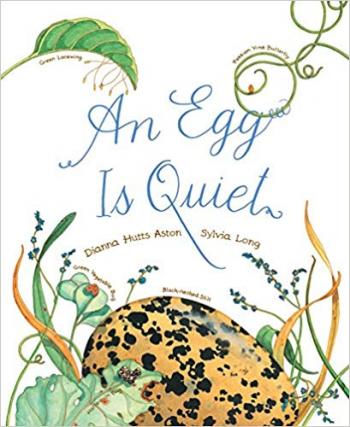 An Egg Is Quiet is the latest book we've read from this stellar author/illustrator team, and we found it just as informative and packed with details and lovely pictures as the last two (A Seed Is Sleepy -- review; and A Rock Is Lively -- review).
So many eggs have such interesting patterns and beautiful combinations of earth tones with the occaional bright color, and the illustrations here capture it all so beautifully. My children and I enjoyed just looking at the double-page spread before the title page that features pictures of different eggs, seeing how they compared to each other and reading which animals each would hatch into.
I tend to think of eggs as belonging to the domain of birds, and the majority here do, but we also see the ways that insect eggs, amphibian eggs, and reptile eggs compare to these. A nice chart at one point shows gestation times for a few different kinds of animals, with a few pictures of the insides of the eggs at different stages. 
I like the page that contrasts the shapes of eggs, and how each shape works best for the type of environment the egg is in -- for example, the oblong seabird egg that's wider at one end than the other, which helps prevent it from rolling off the edge of the cliff if it's bumped.
I love how the poetic language feels simple and gentle, yet communicates so much! Definitely a keeper.
Scrounged From: Amazon
Format: Paperback
Author: Dianna Hutts Aston
Illustrator: Sylvia Long
Pages: 36
Content Advisory: None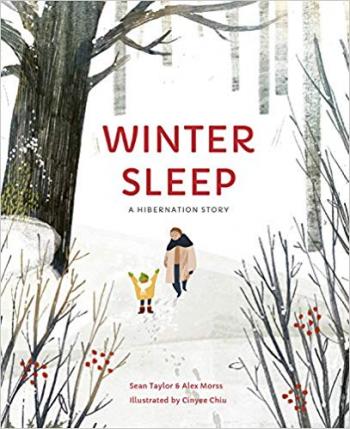 Winter Sleep uses a story of a boy who visits his grandmother as a framework to describe some of the ways that many woodland animals hibernate during the winter. The book begins with a brief look at some animals in their wide-awake forms during summer, before contrasting this with the colder and quieter winter scene. 
I enjoyed the illustrations that use plenty of earthy colors to show pond life, smaller animals like mice and insects, as well as larger animals like bears as they take their winter rest. The "story" itself is a bit sparse, but serves well enough as a more conversational way to present the information.
This reminded me a bit of Over and Under the Snow (see my review here). It's less poetic, but contains more informational pages at the end. It also refers to bugs as "minibeasts" which I thought was an amusing term -- I assume it's a British convention.
Scrounged From: NetGalley
Format: Kindle
Authors: Sean Taylor and Alex Morss
Illustrator: Cinyee Chiu
Pages: 32
Content Advisory: None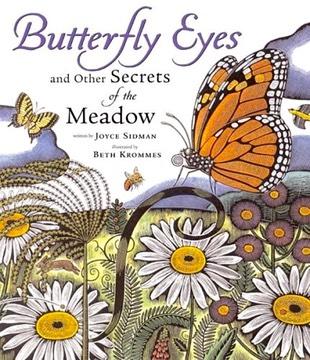 We enjoyed Joyce Sidman's nature poetry in Winter Bees (review here), and were glad to find another collection with a spring theme in Butterfly Eyes and Other Secrets of the Meadow, which we read to finish out the school year this year.
These poems also work as riddles. Each page contains two poems about different aspects of nature in the meadow -- sometimes rodents or bugs, but other times nonliving things like sun and rain. The two answers to the riddle are connected somehow (and described in prose on the page after each riddle), sometimes in more obvious ways than others (butterflies and milkweed, for example), but overall this book helps to show the interconnectedness of all parts of nature when they inhabit the same environment.
The illustrator here is the same as in Swirl by Swirl (review here), but I think the colors are lighter and brigher, and the contrast of the dark lines makes them stand out all the more.
A lovely investigation into nature in spring!
Scrounged From: A used book sale
Format: Hardcover
Author: Joyce Sidman
Illustrator: Beth Krommes
Pages: 48
Content Advisory: None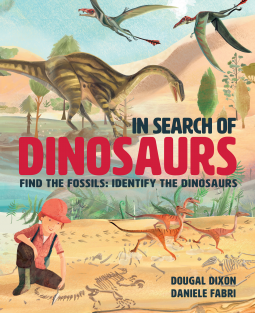 Living with a dinosaur fan can be fun, and I know I've been exposed to and learned so much more about dinosaurs and fossils than I ever did as a kid, thanks to my son taking an interest in them. In Search of Dinosaurs is a dinosaur book that helps to make some connections between the artistic recreations of Mesozoic animals that we see and the fossil dig sites where information about these creatures and environments is collected.
There is a section for each of the three time periods in the Mesozoic Era, and each follows the same format. First we see an artist's recreation of a hypothetical fossil dig. On the next few pages, we see scenes (without text) of what these animals may have looked like when they were alive. This gives readers the opportunity to go back and forth between the fossils and creatures and see if they can figure out which of the living creatures (or parts of them) are represented in the dig.
These scenes are followed by smaller pictures and information blurbs about each creatures -- mostly dinosaurs, but also some other animals such as Cretaceous turtles, as well as ammonites, metaposaurus, a small mammal, etc. There are plenty of good tidbits of information here, but they're presented in a way that's easy to follow. Since the fossils are presented "in context," we also learn a bit more about the kinds of things paleontologists find in digs, and some of the ways they can find clues as to the dinosaurs' behaviors and environments.
(Thanks to NetGalley for the review copy.)
Scrounged From: NetGalley
Format: Kindle
Author: Dougal Dixon
Pages: 44
Content Advisory: None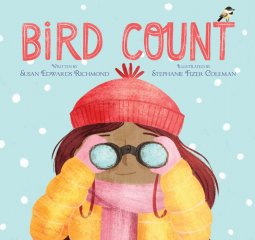 A while back I reviewed Counting Birds (review here), which tells the story of how the long-running citizen science project called the "Christmas bird count" developed, and why it's become so important for scientists and for the birds they are aiming to protect.
Bird Count is also about the bird count, but it approaches it from a more personal angle. It tells the fictionalized story of a girl named Ava and her mom as they participate in the bird count, spending an entire wintery day watching, listening, and collecting data. 
We get to see some of the methodology of counting birds at work here -- for example, a bird can only be counted if two or more people in the group see it. The route the group takes is also identified in advance so they can cover a large area. On each page, we see the tally of different types of birds as it's added to.
The "day in the life" aspect of this book helped to make the bird count come alive, and it inspired me to do some reading on The Audubon Society's website to see what kinds of counting groups are available in my area. Maybe someday we'll make this event part of our winter science education!
(Thanks to NetGalley for the review copy.)
Scrounged From: NetGalley
Format: Kindle
Author: Susan Edwards Richmond
Illustrator: Stephanie Fizer Coleman
Pages: 32
Content Advisory: None
Older posts
Blogs on This Site

Reviews and book lists - books we love!

The site administrator fields questions from visitors.

Like us on Facebook to get updates about
new resources