scrounge: /skrounj/ informal verb: to actively seek [books] from any available source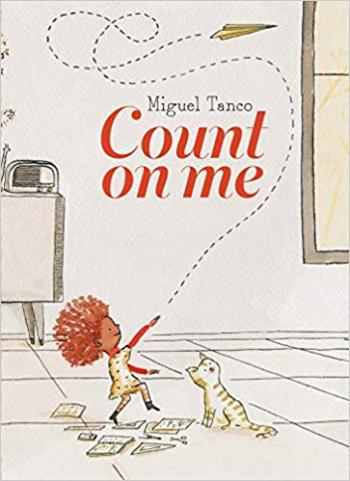 The unnamed girl in Count on Me begins by telling us that everyone has a passion. She shows some of her family members' passions, as well as some of the things she tried that just weren't for her. Then she reveals what her passion is: math. She enjoys looking for it in the world around her, in the form of geometric playground equipment, concentric circles in the water, etc. While this section of the book doesn't go into a lot of detail about mathematical concepts, it serves to present math as a way of seeing the world, as well as to normalize it as something for a girl to do. 
At the end of the book, there are several pages describing in more detail how to look for different kinds of math in the real world: fractals, projections, polygons, etc. This section was helpful and gives a more tangible picture of how ubiquitous math is when you know how to look for it. (Despite the title, counting isn't really discussed here.) We enjoyed this book very much, and the watercolor art is beautiful.
(In compliance with FTC guidelines, I disclose that I received this book for free through LibraryThing Early Reviewers. I was not required to write a positive review.)
Scrounged From: LibraryThing
Format: Hardcover
Author/Illustrator: Miguel Tanco
Pages: 48
Content Advisory: None

Blogs on This Site

Reviews and book lists - books we love!

The site administrator fields questions from visitors.

Like us on Facebook to get updates about
new resources