scrounge: /skrounj/ informal verb: to actively seek [books] from any available source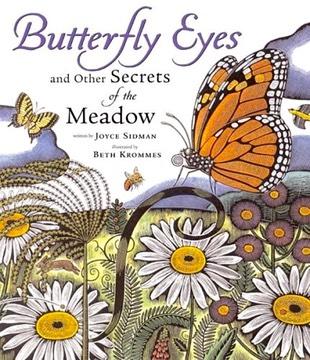 We enjoyed Joyce Sidman's nature poetry in Winter Bees (review here), and were glad to find another collection with a spring theme in Butterfly Eyes and Other Secrets of the Meadow, which we read to finish out the school year this year.
These poems also work as riddles. Each page contains two poems about different aspects of nature in the meadow -- sometimes rodents or bugs, but other times nonliving things like sun and rain. The two answers to the riddle are connected somehow (and described in prose on the page after each riddle), sometimes in more obvious ways than others (butterflies and milkweed, for example), but overall this book helps to show the interconnectedness of all parts of nature when they inhabit the same environment.
The illustrator here is the same as in Swirl by Swirl (review here), but I think the colors are lighter and brigher, and the contrast of the dark lines makes them stand out all the more.
A lovely investigation into nature in spring!
Scrounged From: A used book sale
Format: Hardcover
Author: Joyce Sidman
Illustrator: Beth Krommes
Pages: 48
Content Advisory: None
Blogs on This Site

Reviews and book lists - books we love!

The site administrator fields questions from visitors.

Like us on Facebook to get updates about
new resources