scrounge: /skrounj/ informal verb: to actively seek [books] from any available source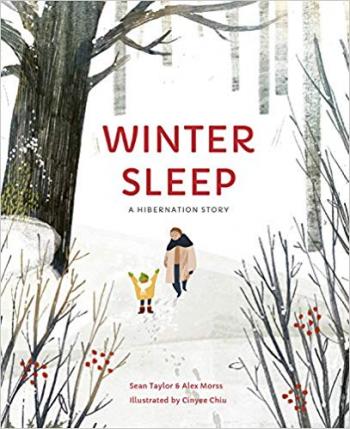 Winter Sleep uses a story of a boy who visits his grandmother as a framework to describe some of the ways that many woodland animals hibernate during the winter. The book begins with a brief look at some animals in their wide-awake forms during summer, before contrasting this with the colder and quieter winter scene. 
I enjoyed the illustrations that use plenty of earthy colors to show pond life, smaller animals like mice and insects, as well as larger animals like bears as they take their winter rest. The "story" itself is a bit sparse, but serves well enough as a more conversational way to present the information.
This reminded me a bit of Over and Under the Snow (see my review here). It's less poetic, but contains more informational pages at the end. It also refers to bugs as "minibeasts" which I thought was an amusing term -- I assume it's a British convention.
Scrounged From: NetGalley
Format: Kindle
Authors: Sean Taylor and Alex Morss
Illustrator: Cinyee Chiu
Pages: 32
Content Advisory: None
Blogs on This Site

Reviews and book lists - books we love!

The site administrator fields questions from visitors.

Like us on Facebook to get updates about
new resources