scrounge: /skrounj/ informal verb: to actively seek [books] from any available source
Category results for 'rural'.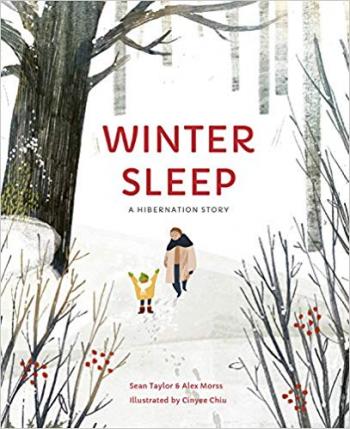 Winter Sleep uses a story of a boy who visits his grandmother as a framework to describe some of the ways that many woodland animals hibernate during the winter. The book begins with a brief look at some animals in their wide-awake forms during summer, before contrasting this with the colder and quieter winter scene. 
I enjoyed the illustrations that use plenty of earthy colors to show pond life, smaller animals like mice and insects, as well as larger animals like bears as they take their winter rest. The "story" itself is a bit sparse, but serves well enough as a more conversational way to present the information.
This reminded me a bit of Over and Under the Snow (see my review here). It's less poetic, but contains more informational pages at the end. It also refers to bugs as "minibeasts" which I thought was an amusing term -- I assume it's a British convention.
Scrounged From: NetGalley
Format: Kindle
Authors: Sean Taylor and Alex Morss
Illustrator: Cinyee Chiu
Pages: 32
Content Advisory: None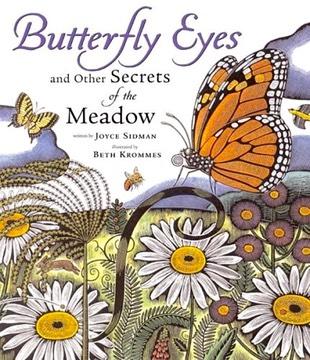 We enjoyed Joyce Sidman's nature poetry in Winter Bees (review here), and were glad to find another collection with a spring theme in Butterfly Eyes and Other Secrets of the Meadow, which we read to finish out the school year this year.
These poems also work as riddles. Each page contains two poems about different aspects of nature in the meadow -- sometimes rodents or bugs, but other times nonliving things like sun and rain. The two answers to the riddle are connected somehow (and described in prose on the page after each riddle), sometimes in more obvious ways than others (butterflies and milkweed, for example), but overall this book helps to show the interconnectedness of all parts of nature when they inhabit the same environment.
The illustrator here is the same as in Swirl by Swirl (review here), but I think the colors are lighter and brigher, and the contrast of the dark lines makes them stand out all the more.
A lovely investigation into nature in spring!
Scrounged From: A used book sale
Format: Hardcover
Author: Joyce Sidman
Illustrator: Beth Krommes
Pages: 48
Content Advisory: None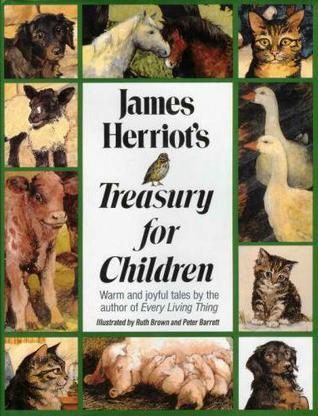 James Herriot is unparalleled when it comes to stories of domesticated animals -- whether dogs and cats in homes or various farm animals -- and his keen observations and clear love and respect for animals.

While the stories in James Herriot's Treasury for Children are fictional, all of them feel to me as if they easily could be true, and no doubt he drew heavily on his veterinary experiences in describing these unique animals and their amusing and tender escapades. 

Herriot manages to capture the human-animal bond, even with farm animals, evoking compassion, joy, and sometimes sadness, without sentimentalizing or emotionally manipulating the reader.

I grew up reading "Oscar, Cat-about-Town" and "The Christmas Day Kitten," both of which are included here, and was also introduced to some new favorites, such as "Blossom Comes Home" and "Smudge, the Little Lost Lamb." The illustrations perfectly capture the animals, people, and the views of the beautiful British countryside.

Because Herriot is British and uses some words that might be unfamiliar to American children (or perhaps it's a generational thing as well), and at times can be a bit wordy, some of these stories will probably lose the interest of preschoolers. But it's worth hanging on and trying them again later, because the best animal stories are really for all ages and have no need to be written off as "for little kids."
Scrounged From: HomeschoolClassifieds.com (Sonlight Core A)
Format: Hardcover
Author: James Herriot
Illustrators: Ruth Brown, Peter Barrett
Pages: 260
Content Advisory: As noted, a few stories are a bit sad.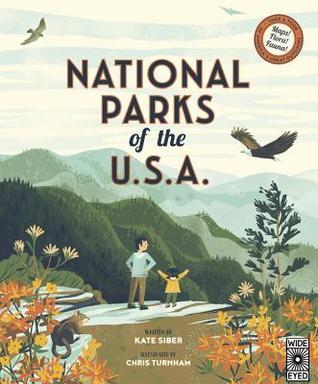 National Parks of the U.S.A. is a wonderful collection of facts and intricate, textured illustrations highlighting some of the more popular national parks in the United States.
The book focuses on one region of the United States at a time, showing a blurb of each national park and where it's located on the map, and then features some of the more notable ones with a double-page spread of a larger illustration and summary, followed by another double-page spread with more details and tidbits about the park's interesting features, such as animals, plants, geologic formations, weather, Native American history, and more.
Many of the more popular parks are featured, such as Yosemite, Yellowstone, the Grand Canyon, Denali, Death Valley, the Badlands, etc. I was also glad to see my home state of Maine featured by way of Acadia.
Even though I'm kind of a homebody, this book made me want to travel! It's a great way for kids to learn more about the amazing natural wonders of our country, as well as some of the history of their preservation.
(Thanks to NetGalley for the review copy.)
Scrounged From: NetGalley
Format: Kindle
Author: Kate Siber
Illustrator: Chris Turnham
Pages: 112
Content Advisory: None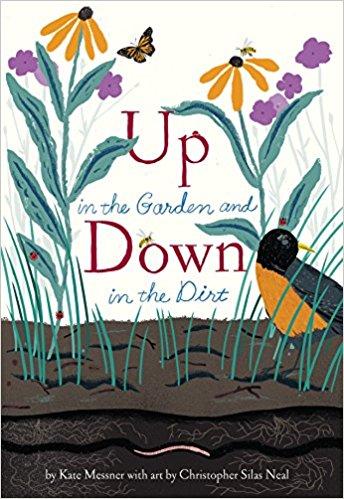 We enjoyed reading another installment from the Messner/Neal duo, after reading Over and Under the Snow (see my review here). Up in the Garden and Down in the Dirt includes beautiful, colorful artwork and tells the story of some of the things that go on in a garden over the course of a year. The text is spare and fairly poetic, and communicates facts about bugs, plants, and the food chain without a lot of technical terms. 
The book follows a girl and her Nana as they haul off dead plants and sow seeds in the spring, watch the vegetables ripen in the summer, and harvest and put the garden "to bed" in the autumn, and soon it rests under a blanket of snow for the winter. We're also introduced to some of the creatures that live in gardens: ladybugs, earth worms, pill bugs, and even garter snakes.
It's a great reminder that there's a lot going on in one little garden, and it's all interconnected -- even down in the dirt where we don't often see it.
Scrounged From: Our local library
Format: Hardcover
Author: Kate Messner
Illustrator: Christopher Silas Neal
Pages: 52
Content Advisory: None
Older posts
Blogs on This Site

Reviews and book lists - books we love!

The site administrator fields questions from visitors.

Like us on Facebook to get updates about
new resources