scrounge: /skrounj/ informal verb: to actively seek [books] from any available source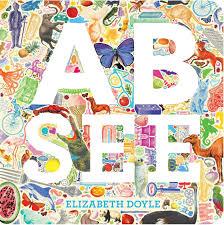 The world of preschool literature is replete with books about counting, shapes, and the alphabet, but that doesn't mean there aren't still unique perspectives on these staple topics. A B See is a fresh look at the letters of the alphabet as composed by smaller pictures of things that all begin with the letter they collectively portray.
It sounds simple, and it is, but the intricate details and positioning of each thing or animal makes the book fun and absorbing to look at. Each picture is raised slightly to give the pages some texture, and the use of complementary colors and varying hues gives the pictures some "pop." Each letter page also contains a brief alliterative sentence about objects in the pictures, but it's the illustrations that really capture my attention.
At the end there's an index that lists the name of each item pictured in each letter in case it isn't apparant what's being depicted. 
Scrounged From: Rainbow Resource
Format: Board Book
Author/Illustrator: Elizabeth Doyle
Pages: 32
Content Advisory: None

Blogs on This Site

Reviews and book lists - books we love!

The site administrator fields questions from visitors.

Like us on Facebook to get updates about
new resources