scrounge: /skrounj/ informal verb: to actively seek [books] from any available source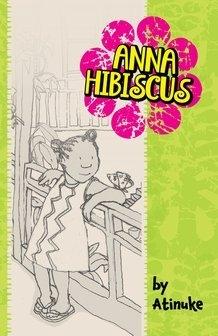 Anna Hibiscus is a short, four-chapter book about a girl who lives in Africa... "Amazing Africa." She is part of a large, busy extended family who live in a large white house and are always there for each other -- which can sometimes get to be too much, as the first chapter begins with Anna going on a vacation with her parents and siblings. But before long, they realize just how important it is to have all the various members of their family around -- from the cousins to the uncles, aunties, and grandmother and grandfather. 
My children (7 and 4) both enjoyed this as a read-aloud, and I loved getting this little glimpse of a family living in Africa, though there are still some connections to North America, as Anna's mother is Canadian and she also has an (African-born) aunt who lives in America. I remember watching a TED talk by Chimamanda Ngozi Adichie talking about the danger of believing a "single story" about a person or place, but specifically Africa and the way the continent and its people are often portrayed in American media. Like Adichie, the author of this book, Atinuke, is Nigerian-born, and while we're not told which country Anna Hibiscus lives in, the characters and setting are portrayed in a familiar, loving way -- in a way that adeptly highlights both differences and similarities between the lives of Anna and the hypothetical American reader. 
While Anna's family appears financially secure, poverty is touched on in a couple chapters, and I thought it was handled especially well in chapter 3 when Anna wants to sell oranges like the girls she sees out on her street. It could be a good lead-in to discussing things like poverty, responsibility, and privilege. We're looking forward to reading more in this series!
Scrounged From: Amazon
Format: Paperback
Author: Atinuke
Illustrator: Lauren Tobia
Pages: 109
Content Advisory: None
Blogs on This Site

Reviews and book lists - books we love!

The site administrator fields questions from visitors.

Like us on Facebook to get updates about
new resources