scrounge: /skrounj/ informal verb: to actively seek [books] from any available source
Category results for 'Caldecott-Honors'.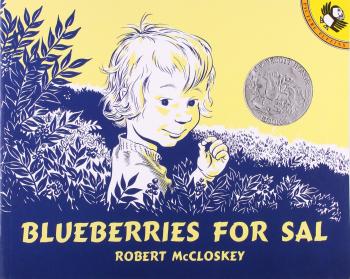 This classic has been on my bookshelves for as long as I can remember, and is not only a wonderful children's story but a celebration of one aspect of the wild beauty of my home state of Maine. While Blueberries for Sal never comes out and gives a location (aside from "Blueberry Hill"), it's not difficult to imagine that this story is based in Maine (like several of McCloskey's others), given that Maine is pretty much the world capital for wild blueberries (one of the few fruit crops that's native to North America).
When I came back to this book as an adult, I could remember the gist of the narrative -- how Sal and a baby bear get mixed up, with each following the other's mother (as both mothers are quite focused on their task of finding blueberries for the winter). But what I find most endearing about this book is the way McCloskey's illustrations so perfectly capture the mannerisms of a toddler. Sal is capable of great focus on picking, but also an inability to keep more than three blueberries in her pail without eating them. Whether it's the facial expressions or the overall strap that's perpetually falling off her shoulder, Sal is the epitome of a cute and curious toddler who is satisfied by simple things.
I used this book with my son in pre-k for "B week." After reading it, we ate blueberries and "brown bears" (chocolate teddy grahams) for snack. 
Scrounged From: A gift for our child
Format: Hardcover
Author/Illustrator: Robert McCloskey
Pages: 56
Content Advisory: None

Blogs on This Site

Reviews and book lists - books we love!

The site administrator fields questions from visitors.

Like us on Facebook to get updates about
new resources