scrounge: /skrounj/ informal verb: to actively seek [books] from any available source
Category results for 'Caldecott-Honors'.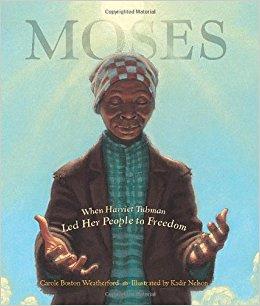 Moses: When Harriet Tubman Led Her People to Freedom is a poetic tribute to the most famous conductor on the Underground Railroad, a woman who endured the brutality of slavery and knew she had to choose between liberty and death, and so she took her freedom on her own before helping hundreds of others to do the same. This book primarily focuses on her initial escape, written in a narrative that includes an ongoing dialog between her and God, as she relies on him every step of the way.
I appreciated this perspective on her faith, even though the text does not cover many details of her life. There is an author's note at the end that gives more information about Tubman's life in slavery and her work on the Underground Railroad after her escape. 
Once again, Kadir Nelson's illustrations convey so much depth of spirit here -- Harriet Tubman's courage, fear, and faith are evident in her face as well as in the text.
Scrounged From: Our local library
Format: Hardcover
Author: Carole Boston Weatherford
Illustrator: Kadir Nelson
Pages: 48
Content Advisory: The text doesn't really get into Tubman's treatment while she was enslaved, but her escape is perilous at times.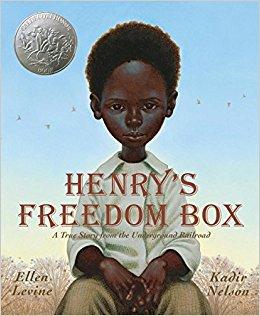 Henry's Freedom Box is the true story of Henry "Box" Brown, an enslaved man who mailed himself to freedom in 1849. This telling of that story is both devastating and triumphant, and as usual, Kadir Nelson's illustrations capture every emotion and event perfectly.
Henry grew up with a master who seemed to treat him well, relatively speaking. But then he was given to his master's son and sent to work in a tobacco factory. After he married and had three children, Henry's wife and children were sold away from him (this scene might be difficult for sensitive readers.)
Henry's method of gaining his freedom leads him into a wooden box which is carried on carts and a boat, and includes some rough handling, but it works. This book did a great job of breathing life into a story I'd heard before only in a vague and generalized sense, and gives the name and details to go with it.
Scrounged From: Our local library
Format: Hardcover
Author: Ellen Levine
Illustrator: Kadir Nelson
Pages: 40
Content Advisory: Henry's wife and children are sold away from him around the middle of the story.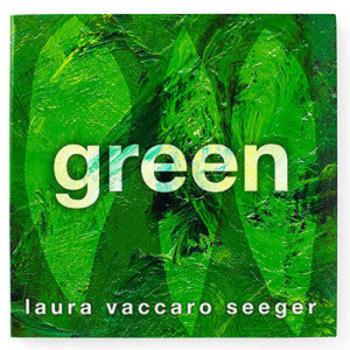 Green sounds pretty simple, and it is (there are few words here), but I thought it was well executed. It is, as it sounds, a celebration of the many shades and forms of green in the world, from "jungle green," to "faded green" (paint), to "shaded green" (apple trees). The illustrations are vibrant and textured, and the pages include clever cut-outs that become something totally different once you turn the page and they show through the other side. 
My kids and I enjoyed this one and, for the record, there are certainly other colors in the illustrations as well (including a red stop sign as evidence of "never green.")
Scrounged From: Our local library
Format: Hardcover
Author/illustrator: Laura Vaccaro Seeger
Pages: 36
Content Advisory: None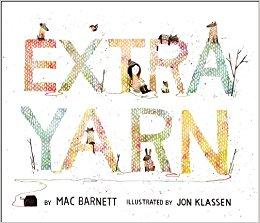 Extra Yarn is an interesting, imaginative tale about how a small town with a lot of soot is transformed when a girl named Annabelle finds a box of extra yarn, which she uses to knit sweaters for everyone and everything she can. The story appears to be set simultaneously in the 1950s (there's a pickup truck) and 1500s (there's an evil archduke and a castle), but I guess that's part of its charm.
I love the illustrations and the way the drab monochromatic tones are gradually lightened up as the colors of the yarn spread. If you've read I Want My Hat Back, the bear shown briefly in this story will probably look familiar, as this is the same artist.
Sometimes I don't like it when stories don't "explain everything" at the end, but I think it's fitting here -- is it a story about magic? or not? I guess you'll have to read it and decide for yourself.
Scrounged From: Our local library
Format: Hardcover
Author: Mac Barnett
Illustrator: Jon Klassen
Pages: 40
Content Advisory: None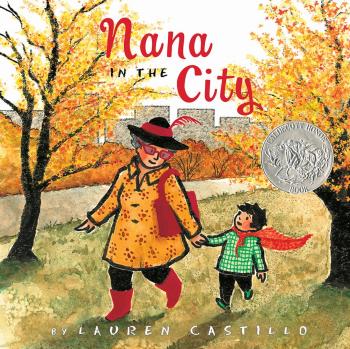 Nana in the City is a sweet picture book with simple words and lovely, colorful illustrations that perfectly portray autumn in the city. I have to admit, I sympathize with the little boy in this story. I think cities are scary too. They are loud, crowded, and I never seem to know where I am. But as his Nana shows him around (after making him a cape), he begins to develop an appreciation for everything a city has to offer.
This is a city picture book that even us country bumpkins can enjoy!
Scrounged From: Our local library
Format: Hardcover
Author/Illustrator: Lauren Castillo
Pages: 40
Content Advisory: None
Older posts

Blogs on This Site

Reviews and book lists - books we love!

The site administrator fields questions from visitors.

Like us on Facebook to get updates about
new resources