scrounge: /skrounj/ informal verb: to actively seek [books] from any available source
Category results for 'plants'.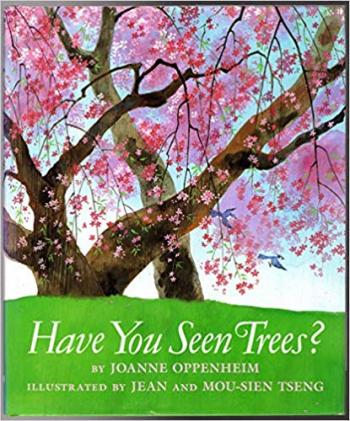 Have You Seen Trees? This may seem like an odd title. Of course I've seen trees. Who hasn't? Especially living in a rural, largely forested area, trees are particularly ubiquitous. And perhaps that's what the question is really asking. Have you become so used to encountering trees in the daily landscape that you're not really "seeing" them anymore?
The book doesn't get that philosophical, but by describing trees in their various seasons, colors, varieties, and habitats, especially with the use of many hyphenated descriptor phrases, the rhyming text reminds us of the beauty and versatility of trees. The soft and vibrant illustrations pair wonderfully with the celebratory text, making the book a joy to read (though the hyphenated phrases can take some practice!).
Scrounged From: A local used book sale
Format: Paperback
Author: Joanne Oppenheim
Illustrators: Jean and Mou-Sien Tseng
Pages: 35
Content Advisory: None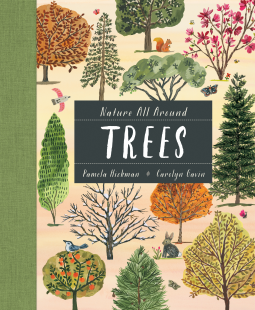 I love the bold and detailed (and very green!) illustrations in Nature All Around: Trees. This nonfiction book (hopefully the start of a series?) provides lots of basic information about trees -- from the differences between deciduous and evergreens, to pollination, photosynthesis, classification, as well as a look at how trees change over the course of the four seasons.
In addition to providing general information, this book gives some tips on exploring and appreciating the incredible variety of trees in the world, and the many different ways they help us and the environment by cleaning the air, and providing fruit, shade, and shelter for animals.
It's not too information-heavy, but would be too wordy for preschool-age children (though a glossary is provided at the end for words like cambium, stomata, cotyledon, etc.).
(Thanks to NetGalley for the review copy.)
Scrounged From: NetGalley
Format: Kindle
Author: Pamela Hickman
Illustrator: Carolyn Gavin
Pages: 32
Content Advisory: None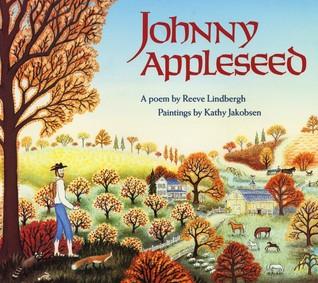 We really enjoyed Reeve Lindbergh's lovely poem about the life of Johnny Appleseed, as well as Kathy Jakobsen's intricate and colorful illustrations of an older, wilder American countryside, capturing each season beautifully. It helps that we'd previously read a biographical picture book about Johnny Appleseed's life, but this poem still manages to include basic information about him and what he did while maintaining poetic structure.
For part of this book, we see Johnny through the eyes of Hannah, who first meets him on his travels when she's a girl, and sees him again when he's old and she's getting older too. We learn about his pacifist nature and genuine belief that he should "hurt no living thing," and his helpful attitude and desire to help settlers grow their own food. We also learn that he has become a legend since his lifetime and that sometimes it's hard to tell truth from fiction when it comes to stories of his life.
There is an additional page of information about him at the end of the book, but the poem itself does such a good job of not only communicating information, but evoking the spirit of Johnny Appleseed, and what he's come to represent in American history and lore: adventure, independence, helpfulness, sacrifice, and love and conservation of nature.
Scrounged From: Our local library
Format: Paperback
Author: Reeve Lindbergh
Illustrator: Kathy Jakobsen
Pages: 32
Content Advisory: None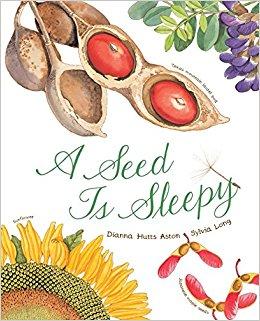 A Seed Is Sleepy is a wonderful nonfiction picture book that introduces children to the wonder of seeds. The illustrations are detailed and colorful, and the text manages to include important information in a way that is meditative and celebratory, without becoming too wordy or clinical.
The book covers seeds of all different sizes and types, and emphasizes the different ways seeds find to spread themselves out in order to germinate in new places. The process of germination is covered as well, and one of the most fascinating parts was a page that mentioned a seed from an extinct date palm tree that germinated after being preseved for over one thousand years!
Even though the book is poetic and quick to read, I still came away from it feeling like a lot of aspects of seeds had been covered, and was impressed again at the utter variety of seeds in the world. I'm looking forward to reading more from this series.
Scrounged From: Amazon
Format: Paperback
Author: Dianna Aston
Illustrator: Sylvia Long
Pages: 40
Content Advisory: None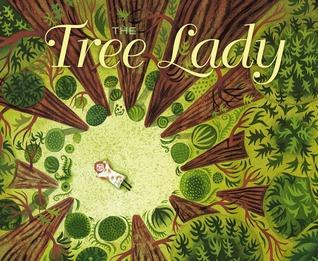 Continuing with our "tree theme" of late, as well as books that highlight people who made a difference in their communities, The Tree Lady is another inspiring story of a woman who brought trees to the San Diego area more than a hundred years ago. Not only did Kate Sessions become the first woman to obtain a science degree from the University of California, but she then made "tree hunting" and planting her career. She sought out the varieties of trees that would be just right for the sunny, dry climate of Southern California, and went to work making the place beautiful.
This picture book tells her story from her tree-loving childhood to her education and finally her determination to try and find a way where others may not have tried. The affirming repetition of "But Kate did" throughout the story helps to emphasize this sense of perseverence, and the story concludes with some information about the way her legacy still impacts the area she called home.
Scrounged From: Our local library
Format: Hardcover
Author: H. Joseph Hopkins
Illustrator: Jill McElmurry
Pages: 32
Content Advisory: None
Older posts
Blogs on This Site

Reviews and book lists - books we love!

The site administrator fields questions from visitors.

Like us on Facebook to get updates about
new resources