scrounge: /skrounj/ informal verb: to actively seek [books] from any available source
Category results for 'humor'.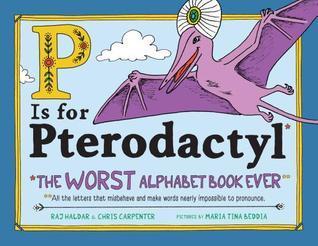 I thought P Is for Pterodactyl: The Worst Alphabet Book Ever looked like an amusing book when I first saw it, so I was glad I got it for Christmas last month. It'll make a great conversation piece, and as a proofreader I'm all too familiar with the difficulty that certain English words give us (myself included) -- we have plenty of exceptions to our language rules!
I was indeed amused while reading this, and found it a fun way to collect a good percentage of silent consonants in one place. Probably this wouldn't appeal to children until they were old enough to be reading some of these more difficult English words, but it could also be useful for someone who's learning English as an adult.
In some ways this alphabet book isn't consistent, because not every letter is used as a silent first letter the way P is (as in "Ptolemy the psychic pterodactyl struggles with psoriasis"), but that's understandable. For many letters, the text instead focuses on silent letters in other parts of words (such as the "n" in "hymn" and "autumn" or the "z" in "rendezvous"). Sometimes the book simply points out what a letter is not for, as in "F is not for photo, phlegm, phooey, or phone." Occasionally it "cheats" a little and focuses on words that are more clearly from other languages (J is for Jai Alai, a sport of Basque origin). 
But despite the fact that I think it "reaches" for a few of these, the premise is funny and it does a good job collecting so many weird words with silent letters. At the end is a glossary, which is helpful because I've always wondered how "gnocchi" was pronounced, plus it includes an explanation for why "ptero" got the "p" in the first place.
Scrounged From: A Christmas present from my brother
Format: Hardcover
Authors: Raj Haldar and Chris Carpenter
Illustrator: Maria Beddia
Pages: 32
Content Advisory: None
Blogs on This Site

Reviews and book lists - books we love!

The site administrator fields questions from visitors.

Like us on Facebook to get updates about
new resources