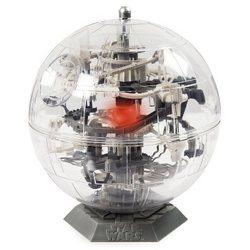 First of all, since there's been so much hype lately about Star Wars, did you know that there is now a Death Star Perplexus? What? You don't know what a Perplexus is? It's a 3-dimensional marble labyrinth game. If you've never played with a perplexus before, you should give it a try!
You may have noticed that last week a new menu option showed up at the top of the page. It's called "Resources" This option was added because we have some new resources that are tough to categorize under any of the other headings, so it made sense to have a place to compile all of these in one place.
Here you'll find our product review blog, our Vortex pages, and the following new features:
Alphabet Lists: This feature was designed to help teachers and parents who are teaching the alphabet to their students/children. You can choose a letter of the alphabet, or a category, depending on whether the alphabet letters are the primary or secondary focus of your teaching.
Population Explosion Simulation is a simulation based on a question Professor Puzzler was asked recently about how quickly the human population could expand.
Gravity Train Simulation is based on an interesting notion of drilling holes through the earth so that trains would be able to pass in a straight line from one city to another. Although the notion seems crazy, and is certainly way beyond our current technological capabilities, it's a fun concept to consider.

Blogs on This Site

Reviews and book lists - books we love!

The site administrator fields questions from visitors.

Like us on Facebook to get updates about
new resources