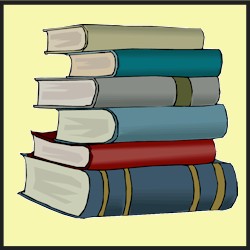 We're delighted to announce the addition of Book Scrounger to our site. To scrounge, according to one dictionary, means "to actively seek money, work, or sustenance from any available source." Into this definition, insert the word "books" in place of "money, work, or sustenance," and you have Book Scrounger's definition of what she does: she actively seeks books from any available source.
In part, she does this for the benefit of her children, so you will find write-ups of many picture books, as well as history, science, and art books written for children. Her children are currently pre-school and kindergarten age, so the blog is currently "heavy" on that age level. Of course, over time, that will change.
In part, she scrounges books for her own pleasure, as she is an insatiable reader, and her bedside table is stacked so high with books in her to-read list that it will take her ten years to get through them all. Except...she keeps adding to the stack, so she may never finish them all. So in addition to finding books for children, you may occasionally find a more "grown-up" book.
In additional to all this, she occasionally permits her husband (the infamous Professor Puzzler of the "Ask Professor Puzzler" blog) to write a blog post.
Do you aspire to being a book scrounger too? If you wish you could have a "to-read" stack as tall as the Book Scrounger's stack, but you don't know how to get started with your scrounging habit, check out this handy list of suggestions the Book Scrounger has written: Book Scrounging Tips.
Note: If you're wondering why a "new" blog has posts dated back several years, the reason is simple: the older posts used to be part of our "Product Reviews" blog. These have been shifted over to the new blog, in order to keep all book reviews together.

Blogs on This Site

Reviews and book lists - books we love!

The site administrator fields questions from visitors.

Like us on Facebook to get updates about
new resources