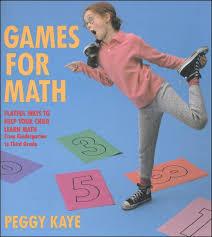 There are plenty of kids who struggle with mathematics, and - as a result of their struggles - don't think math is much fun. But sometimes all it takes is to just get over a few small hurdles on the road to success...

Educator Peggy Kaye's book contains over 250 pages of resources to help children learn math while having fun. It's a great gift for parents or kids!
Do you have a question you would like to ask Professor Puzzler? Click here to
ask your question
!
Get a FREE Pro-Membership!
Educators can get a free membership simply by sharing an original lesson plan on our Articles for Educators page!



Like us on Facebook to get updates about
new resources