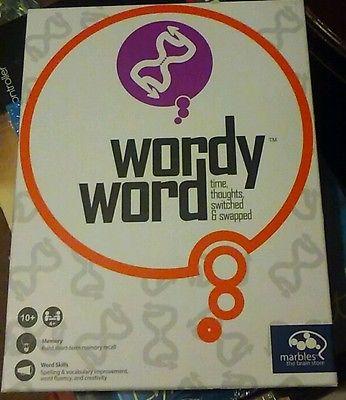 Wordy Word is another "Marbles Original" - this game is a great gift for teens and adults, that challenges players to create words, and also to guess their opponents' words!

As you can see from the picture, the game includes five twelve-sided dice, and these dice contain letters of the alphabet. When the timer starts, the players use those letters to create words.

When the players are done creating words they stop their timer, because that's how much time the opposing team has to guess the words they came up with.

Obviously, with the use of timers, this is a fast paced game - more so than many word games!

Do you have a question you would like to ask Professor Puzzler? Click here to
ask your question
!
Get a FREE Pro-Membership!
Educators can get a free membership simply by sharing an original lesson plan on our Articles for Educators page!



Like us on Facebook to get updates about
new resources