scrounge: /skrounj/ informal verb: to actively seek [books] from any available source
Today's Christmas book post is actually four books (or more!). When I was growing up, I loved reading the American Girl book series produced by Pleasant Company. These fictional stories of girls from the past helped to highlight some of the differences and similarities between people from different time periods and circumstances. 
Each of the original series contain six short chapter books, and book three is the Christmas story. In every book of the series, there is a "Looking Back" section at the end that gives more details about what life was like during the time period of each particular character.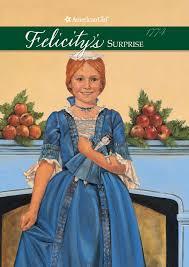 Felicity is growing up in Colonial Williamsburg around the time of the American Revolution. In Felicity's Surprise, she is invited to a dancing lesson at the governor's palace, but when her mother falls ill, she has to spend all her time caring for her, and accepts that she probably will not get to go. But, surprises can still happen!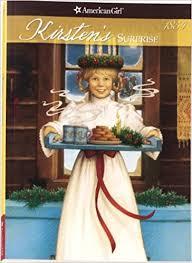 Kirsten is a member of a pioneer family that emigrates from Sweden in the first book in her series. In Kirsten's Surprise, Kirsten and her father are caught in a blizzard on their way home from retrieving the family's trunks from their journey. But in the end, we get a glimpse of some of the traditions involved in the Swedish celebration of Saint Lucia's Day.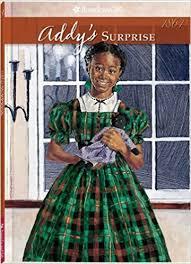 In the first book of her series, Addy and her mother escape from slavery after their family is split up by their master. In Addy's Surprise, Addy and her mother are making a life for themselves in Philadelphia, but money is tight, and they wonder if they will ever see the rest of their family again. But as they plan small surprises for each other, they are in for an even bigger surprise at the end (I have a summary of this whole series here).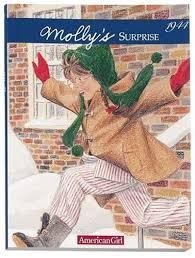 Molly lives in America during World War 2, and her father is away in England working as a doctor during the war. Even though Christmas is coming in Molly's Surprise, the family knows their father may not have time to send them anything because he is so busy. But when Molly and her sister find a package with instructions to keep it hidden, they decide they have been entrusted with keeping the surprise in Christmas.
Scrounged From: Presents from my childhood

Blogs on This Site

Reviews and book lists - books we love!

The site administrator fields questions from visitors.

Like us on Facebook to get updates about
new resources