scrounge: /skrounj/ informal verb: to actively seek [books] from any available source
Category results for 'series'.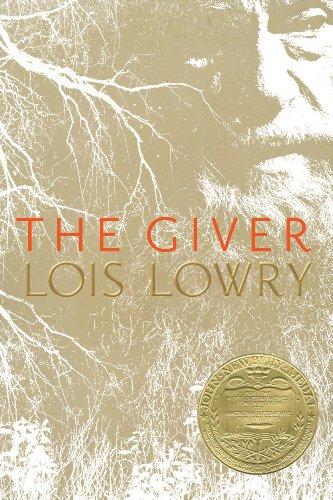 I had fairly high expectations for this book, and was not at all disappointed with The Giver after reading it as an adult. Lois Lowry's world-building is both subtle and thorough, creating a believable futuristic community in which the seemingly trouble-free lives of the inhabitants are tightly controlled. Everything seems harmonious at first glance, but there are cracks of course, and Jonas, the main character, finds that his eventual "assignment" involves learning about some of the more unpleasant aspects of life, so that those around him don't have to.
He has to decide what to do with his new-found knowledge, especially when the life of a child hangs in the balance. I found it to be a very compelling, layered story -- though I would definitely recommend it more to young adults and adults than middle grade even though it won the Newbery Medal (due to some violence and thematic elements).
It was another sixteen years before this became a series and Gathering Blue was published. I liked this one too, also for the similarly intriguing world-building (in a different location than Jonas's), but while I loved the characters and most of the story, I thought the plot was ultimately a bit anti-climactic. Still, the introductions to the characters and place are important for the rest of the series.
Next is The Messenger which is set in the same place as Gathering Blue (with a different main character), but helps to widen the scope of the series' world. This one is bleaker than the last, with a sad ending, but I still really liked it.
The last book, Son, is my favorite of the sequels (though I would recommend all of them) as it gradually ties all the threads of the different locations of the world together (and introduces a new one), with a good mix of new characters without forgetting the familiar ones. The characters show love and determination, and experience a wide range of difficulties and triumphs by the end.
Scrounged From: PaperbackSwap.com and our local flea market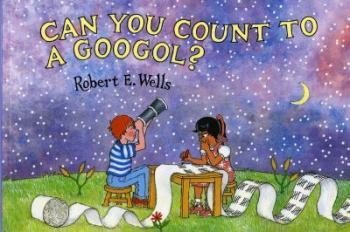 A while ago, in this post, I wrote about some titles in Robert E. Wells' science series that we've really enjoyed. We've since read a few more books from this series that we've enjoyed just as much, so I decided we needed a "part two."
The first is Can You Count to a Googol?, which uses creative illustrations and simple mathematical concepts to introduce students to progressively larger numbers -- from one, to ten, to one hundred (with the reminder that each zero at the end makes a number ten times bigger), to even more. The visualizations include baskets full of marshmallows, penguins eating many scoops of ice cream, and dollar bills packed onto pallets. The end blew our minds a bit as we tried to understand just how big a googol is (one with one hundred zeroes after it). Even then, the reminder that numbers never end gives a lot of perspective as we contemplate outer space and other things so much bigger than us. This book is similar to How Much Is a Million?, a memorable Reading Rainbow book, but I appreciate that this one walks us through even larger numbers and is more clear about how to get from one to another.
The next is Did a Dinosaur Drink This Water?, which is a very thorough exploration of the water system (dinosaur-loving kids may be disappointed to find out that this isn't really about dinosaurs, but it does emphasize how water molecules have been recycled over and over for a very long time). Since it mentions water molecules, this might be an interesting follow-up to What's Smaller Than a Pygmy Shrew? It covers fresh vs. salt water, how water is naturally cleaned and filtered, evaporation and rain, hydroelectricity, and also a bit about conservation at the end, which actually follows well from the text and doesn't feel "tacked on" like these things sometimes do.
Lastly, we've also enjoyed How Do You Know What Time It Is?, which is one of the more thorough titles we've read since it covers aspects of both science and history, and it may be harder for younger children to follow. But it does a great job introducting children to the concept of time, and how we don't even really know what it is. The history comes in when it discusses many of the earlier methods that people used to measure time, such as sun dials, water clocks, and solar vs. lunar calendars. From there it goes into earth's rotation and orbit, as well as time zones and other complications of measuring time. I appreciated the science and history, but also the straightforwardness about mystery, and how much science still hasn't been able to tell us about many concepts, such as time.
Scrounged From: Our local library and AbeBooks.com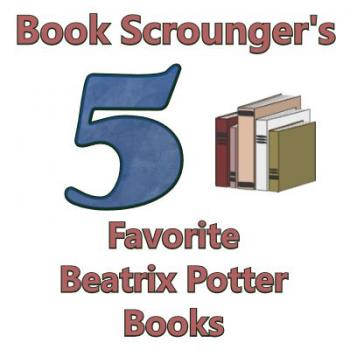 Beatrix Potter books are classics that many of us grew up with -- I can remember bits and pieces of them from early on, especially from a large treasury we had. One thing I notice is how different they are from your typical picture books nowadays -- while the animals are very much anthropomorphized, they display a more shrewd and realistic view of the dangers of life than books tend to now. More than one of these stories involves an animals barely escaping from death at the hands of another animal.
Of all the Potter books I've enjoyed, here are my five favorites (in no particular order):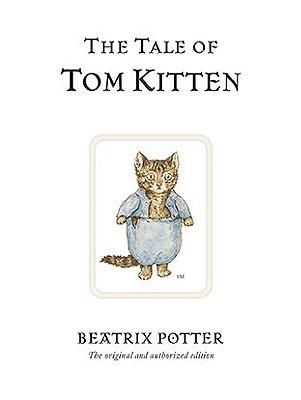 1. Tom Kitten appears to be a story about the perils of trying to dress kittens up in human clothes, as attempted by a mother cat who also wears human clothes -- so perhaps it's really just about the boundless curiosity of children that refuses to be contained with pieces of frippery. Either way, I find it amusing in its matter-of-fact descriptions of how the whole affair falls apart. I've also included this in my 5 picture books featuring cats list.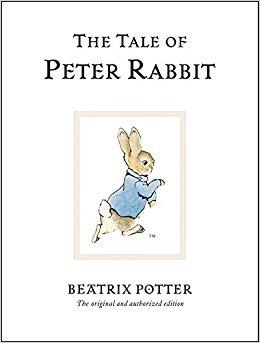 2. Peter Rabbit pretty much IS Beatrix Potter, as far as many of us know. So much so that it can be hard to find a basic, original copy of this story since it's been adapted into so many other forms since it's been published. He's become a nursery theme, stuffed animals, and apparently a movie now, the idea of which I find even more terrifying than Mr. McGregor. Full review here.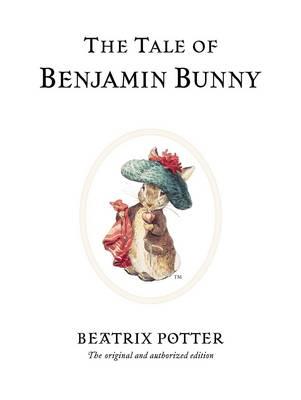 3. Benjamin Bunny is the follow-up to Peter Rabbit, and involves an amusing contrast between the optimistic inexperience of Benjamin vs. the wide-eyed PTSD of Peter. Their experience in McGregor's initially lacks the excitement of the Peter Rabbit story, until Benjamin's father shows up. Full review here.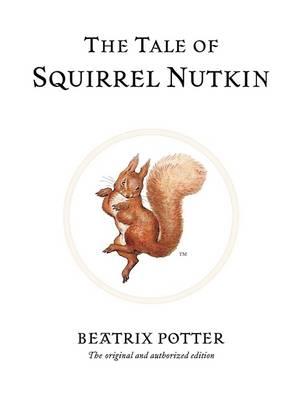 4. I've always enjoyed Squirrel Nutkin, not only for the interesting riddles it includes, but for the build-up of Nutkin's continuous "impertinence" (as the book puts it) toward Old Brown, the owl (in modern terms, he was an obnoxious twat). There is a certain sense of foreboding of what is eventually going to happen, and once again, Beatrix Potter does not hesitate to physically injure her characters in order to portray the dangers of overstepping the boundaries of nature.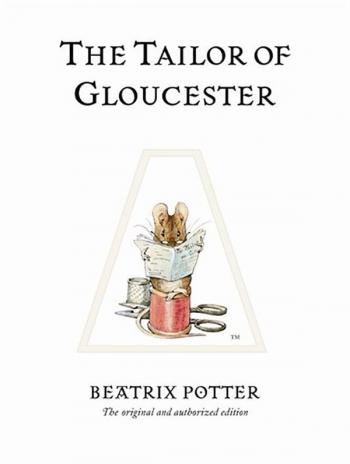 5. The Tailor of Gloucester is wordier than most of the other Potter tales, and so might appeal more to older children, but I really enjoyed it as a child, especially after watching an animated BBC version of the story (which retained the declaration, "No more twist!"). I remember feeling so bad for the tailor, and appreciated a story in which animals did something intelligent and helpful. It also makes a nice Christmas story, although the holiday itself doesn't play a major part in the book.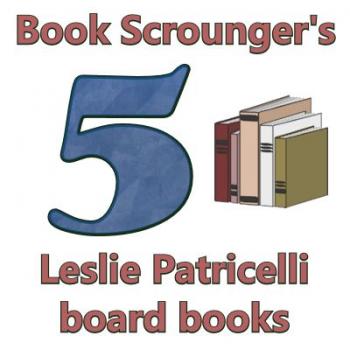 My kids have really enjoyed Leslie Patricelli's bright-colored board books, featuring a smiley, almost-bald baby who experiences holidays, helps demonstrate some simple concepts, and expresses love for some popular baby objects (blankie, binky). I can see why these books appeal to toddlers, with the simple words, exuberant baby, and textured color on the pages. Surprisingly, even my four-year-old enjoyed them, when I thought he was "beyond" these kinds of board books. Here are five of our favorites so far (but there are many!):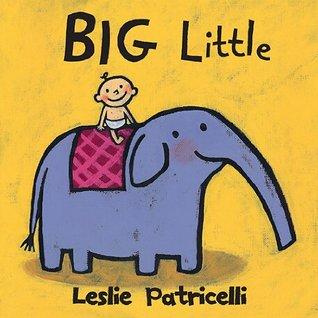 BIG Little compares the sizes of different (often related) things, with the repeated phrase "_____ are big, ______ are little." Things such as heads vs. toes, boats vs. rubber duckies, and ladies vs. ladybugs. At the end is a two-page spread featuring more big things and more little things that a toddler might recognize.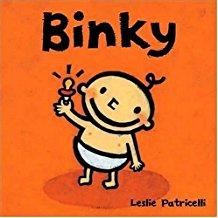 Binky is probably one of the books we've checked out of the library the most. It's a very simple search for a lost binky -- the baby looks in all kinds of places, like in a cereal bowl and under the rug, then begins asking family members before having a meltdown. My toddler gets especially happy when, at the end, the baby finally finds the binky in the crib -- "just where I like it best." Even though my kids never used binkies, they can still identify with the frustrations of losing a special object and not knowing how to find it, so they especially like the happy ending. My daughter has even decided that "Binky" must be the baby's name.
Quiet Loud is a cute comparison of related things that are quiet and loud. It's fun to read the first part in a quiet voice and then raise my voice a bit for the loud comparison. Some examples are "Snow is quiet. Rainstorms are loud." "Birds are quiet. Airplanes are loud." The last two pages contain several more examples on each page of quiet and loud things. The book doesn't make judgments about whether loud things are good or bad, but if I ever do need to ask my kids to do something quiet, this book helps to give them some examples!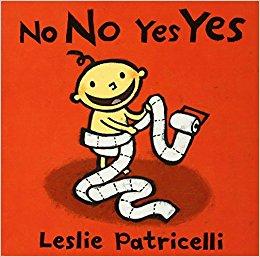 No No Yes Yes is a nice, gentle way to demonstrate things that are not good to do, contrasted with the positive, correct way to do those things. For example, one "no no" is running away from Daddy -- the "yes yes" is holding hands while walking. Another "no no" is dumping water out of the tub, while the "yes yes" shows the baby dumping out water in the tub. The illustrations serve as the explanation -- the only words on the pages are "no no" and "yes yes," but I will usually add some explanations here and there. Sometimes these kinds of books make me worry that they'll introduce bad behaviors that children haven't thought of yet, but this one seemed pretty basic and familiar.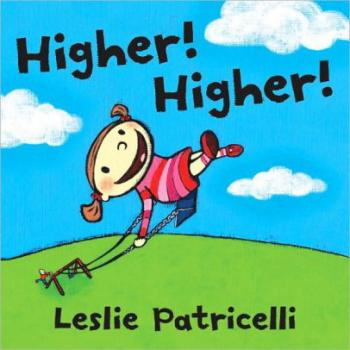 Again with very simple text (primarily just "Higher! Higher!"), this book introduces what appears to be either a new character or an older iteration of the almost-bald baby. The little girl's father is pushing her on the swing, and the higher she goes, the more amazing heights she reaches -- from as high as a giraffe to a skyscraper, and airplane, and even outer space where she meets an unusual creature. Fantastical, but fun. Along a similar vein is Faster! Faster!.
Scrounged From: Our local library
Today's Christmas book post is actually four books (or more!). When I was growing up, I loved reading the American Girl book series produced by Pleasant Company. These fictional stories of girls from the past helped to highlight some of the differences and similarities between people from different time periods and circumstances. 
Each of the original series contain six short chapter books, and book three is the Christmas story. In every book of the series, there is a "Looking Back" section at the end that gives more details about what life was like during the time period of each particular character.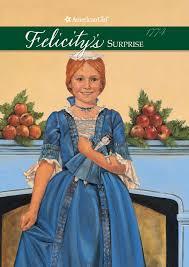 Felicity is growing up in Colonial Williamsburg around the time of the American Revolution. In Felicity's Surprise, she is invited to a dancing lesson at the governor's palace, but when her mother falls ill, she has to spend all her time caring for her, and accepts that she probably will not get to go. But, surprises can still happen!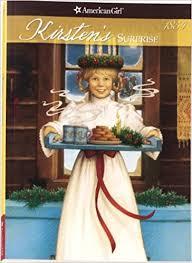 Kirsten is a member of a pioneer family that emigrates from Sweden in the first book in her series. In Kirsten's Surprise, Kirsten and her father are caught in a blizzard on their way home from retrieving the family's trunks from their journey. But in the end, we get a glimpse of some of the traditions involved in the Swedish celebration of Saint Lucia's Day.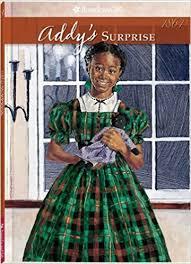 In the first book of her series, Addy and her mother escape from slavery after their family is split up by their master. In Addy's Surprise, Addy and her mother are making a life for themselves in Philadelphia, but money is tight, and they wonder if they will ever see the rest of their family again. But as they plan small surprises for each other, they are in for an even bigger surprise at the end (I have a summary of this whole series here).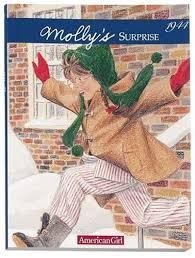 Molly lives in America during World War 2, and her father is away in England working as a doctor during the war. Even though Christmas is coming in Molly's Surprise, the family knows their father may not have time to send them anything because he is so busy. But when Molly and her sister find a package with instructions to keep it hidden, they decide they have been entrusted with keeping the surprise in Christmas.
Scrounged From: Presents from my childhood
Older posts

Blogs on This Site

Reviews and book lists - books we love!

The site administrator fields questions from visitors.

Like us on Facebook to get updates about
new resources