scrounge: /skrounj/ informal verb: to actively seek [books] from any available source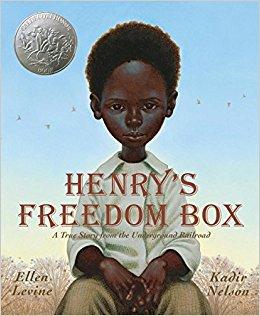 Henry's Freedom Box is the true story of Henry "Box" Brown, an enslaved man who mailed himself to freedom in 1849. This telling of that story is both devastating and triumphant, and as usual, Kadir Nelson's illustrations capture every emotion and event perfectly.
Henry grew up with a master who seemed to treat him well, relatively speaking. But then he was given to his master's son and sent to work in a tobacco factory. After he married and had three children, Henry's wife and children were sold away from him (this scene might be difficult for sensitive readers.)
Henry's method of gaining his freedom leads him into a wooden box which is carried on carts and a boat, and includes some rough handling, but it works. This book did a great job of breathing life into a story I'd heard before only in a vague and generalized sense, and gives the name and details to go with it.
Scrounged From: Our local library
Format: Hardcover
Author: Ellen Levine
Illustrator: Kadir Nelson
Pages: 40
Content Advisory: Henry's wife and children are sold away from him around the middle of the story. 

Blogs on This Site

Reviews and book lists - books we love!

The site administrator fields questions from visitors.

Like us on Facebook to get updates about
new resources